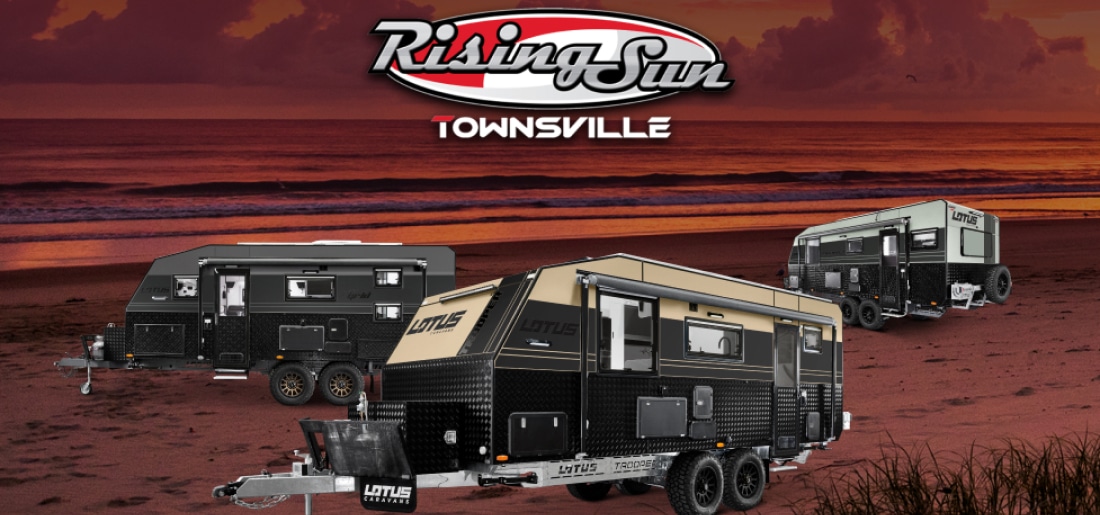 We're coming for you, Townsville!
Discover Lotus Caravans Rising Sun Townsville today
Isn't it time you encountered Lotus Caravans in the wild? We think so! And that's why we're bringing the adventure to you.
We're thrilled to announce that Lotus Caravans will now be available for you to experience in person in just about every state, Australia-wide. Lotus Caravans is proud to welcome Rising Sun Townsville to our exclusive dealership network. This addition comes soon after welcoming Adelaide dealer Great Southern RV to our stable.
Australians have always loved venturing beyond the beaten path, and Lotus Caravans is passionate about unlocking that drive for adventure. Our caravans are Australian-made, using premium-grade materials and world-leading construction methods for an enhanced and comfortable travel experience in even the most challenging terrains.
Now, we're bringing our range to you wherever you are in Australia, so you can satisfy that longing for adventure and secure your ultimate Australian lifestyle. Our dealership network expansion will not only appeal to those in the market for a new van but will benefit our existing Lotus Caravans owners who will now be able to access warranty assistance and servicing from all around Australia. You can't beat that for peace of mind when you're on the road.
Our dealership network comprises some of the best operators in the industry. It's this collaboration from our dealership network to assist all Lotus Caravans owners as if they are their own customers that sets our dealership offering apart from other brands.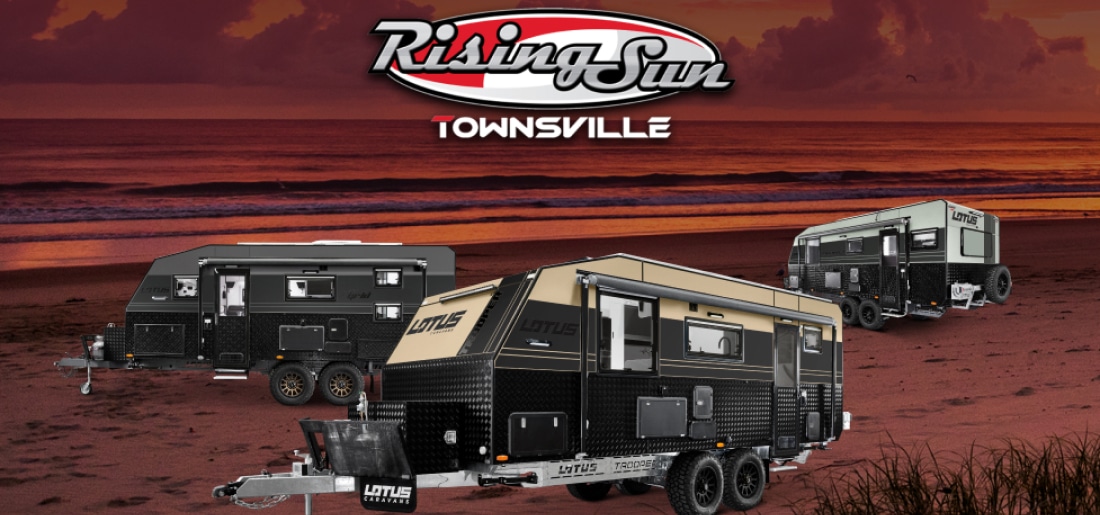 RISING SUN, TOWNSVILLE
Rising Sun Townsville has evolved from its humble beginnings in 1975, selling motorcycles and possessing a deep passion for racing. Today, the family-owned and operated business is an award-winning Motosport Industries dealership, offering locals of North and Western Queensland a full range of new and used motorbikes, boats, and caravans from the best Australian and international manufacturers.
The Rising Sun team shares our passion for adventure, urging Australians to experience every corner of our diverse country, no matter how remote. That's why they also supply parts, power equipment and accessories to help travellers stay on the road for longer. Their onsite, state-of-the-art workshop provides Queenslanders and those on the road with all the servicing, maintenance, repairs and performance enhancements they need to get the most out of their leisure vehicles.
"We understand that when you purchase your first caravan, you're not just buying a caravan, you're buying into a lifestyle. At Rising Sun Townsville, we get it." – James Grieve, Sales Manager
Located at 35 Bowen Road in Rosslea, Rising Sun Townsville is excited to offer the complete off-road range from Lotus Caravans this month.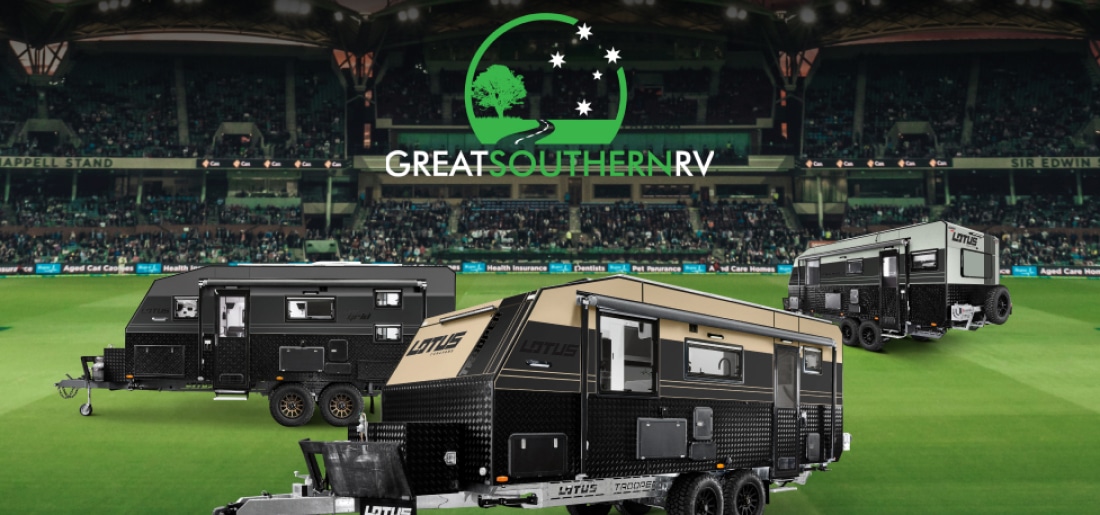 GREAT SOUTHERN RVs, ADELAIDE
Great Southern RVs is a family-owned dealership devoted to the caravanning lifestyle. Offering South Australians a huge range of leading brands, their dedicated team are experts when it comes to getting Australians off-road, exploring our great southern land. In fact, at Great Southern RVs they are absolute enthusiasts for all kinds of outdoor adventures.
"Welcoming Lotus Caravans into our dealership feels like a match made in caravanning heaven. Their commitment to quality and innovation aligns perfectly with our values at Great Southern RV." – Andrew Szczotka Dealer Principal at Great Southern RV.
The team at Great Southern RVs are committed to matching their customers to the perfect caravan, going beyond the expected to ensure every new caravan owner drives away confident and excited. They also believe in building long-term relationships with their customers by providing an exemplary level of reliable after-sales support throughout their caravanning journey.
"The anticipation is electric as we prepare to unveil Lotus Caravans to our community. We can't wait to see the smiles on our customers' faces as they explore the endless possibilities with these incredible caravans." – Erin Tugwell Sales & Marketing Manager at Great Southern RV.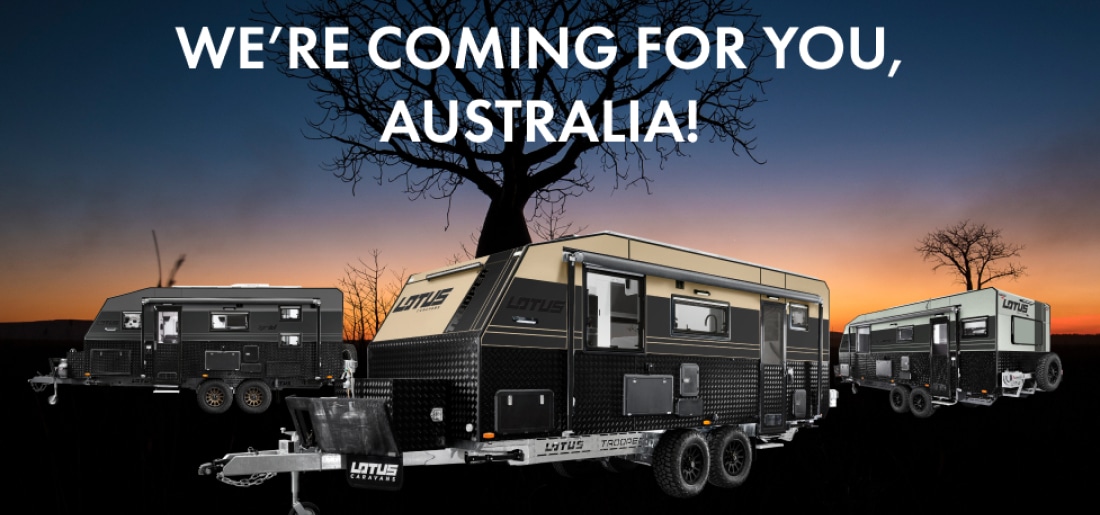 INTRODUCING OUR NEWEST AMBASSADORS – ALLOVERROAMERS
Hey, we are Amy and Oliver, with our three kids Kohen, Tully, and Romily. We have been on the road full time since April 2021.