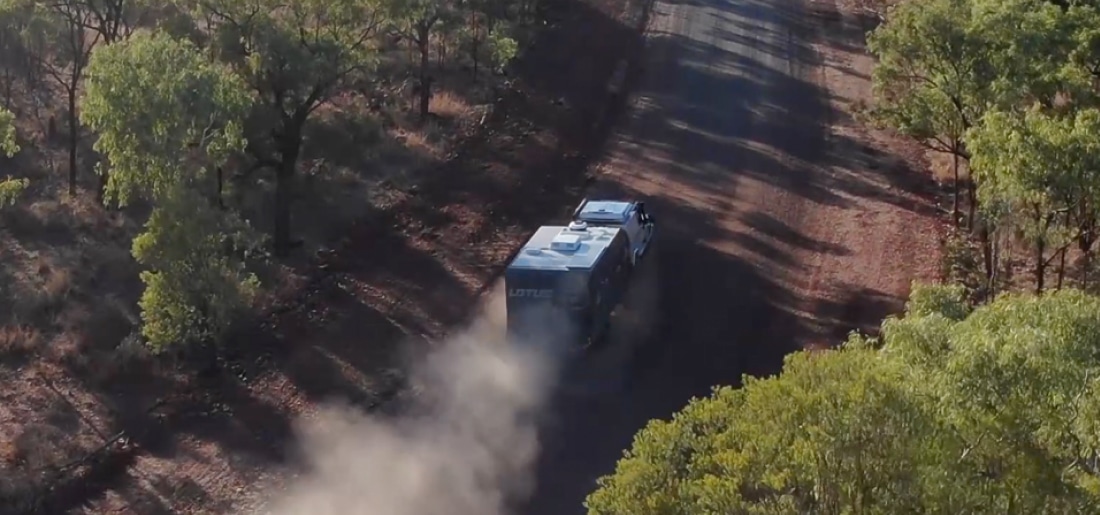 5 OFF-ROAD TOWING TIPS
Taking the road less travelled comes with higher risks, especially when you're towing an off-road camper. Here are five top tips.
Pay Attention
Watch for roadside signage, so you don't accidentally take a track that's not suitable for trailers. We foolishly applied the good ol' Aussie adage of 'she'll be right' and drove right past information boards without a second glance. We quickly found ourselves in spots near impossible to manoeuvre with our Jayco Hawk Outback camper-trailer in tow. In hindsight, if we had checked critical signage, we would have known we were heading straight for a high-clearance 4WD route where towing is not permitted.
Equally important is reading distance signage, especially when making detours. We know towing increases your fuel consumption, and if you're travelling in remote parts of Australia, fuel is precious. Be wary of taking detours without sufficient fuel, and double check maps for distances before setting off.
Get An Off-Road Tow Hitch
Single-handedly, the only reason we were able to extricate ourselves from the tight situation mentioned above was because of our off-road tow hitch. Its extra movement and flexibility makes for easier manoeuvrability across all surfaces. An off-road tow hitch can also help keep the trailer level when travelling uneven surfaces. Plus in the event of an accident, an off-road tow hitch can save at least one vehicle (tow vehicle or trailer) from being flipped.
Coupling can vary though, with some connecting to your existing tow ball, while others will require a completely new tow vehicle connection. If you choose the latter, you'll be pleased to know they aren't so commonly seen on the road, thereby lowering the chances of your van or trailer being nicked!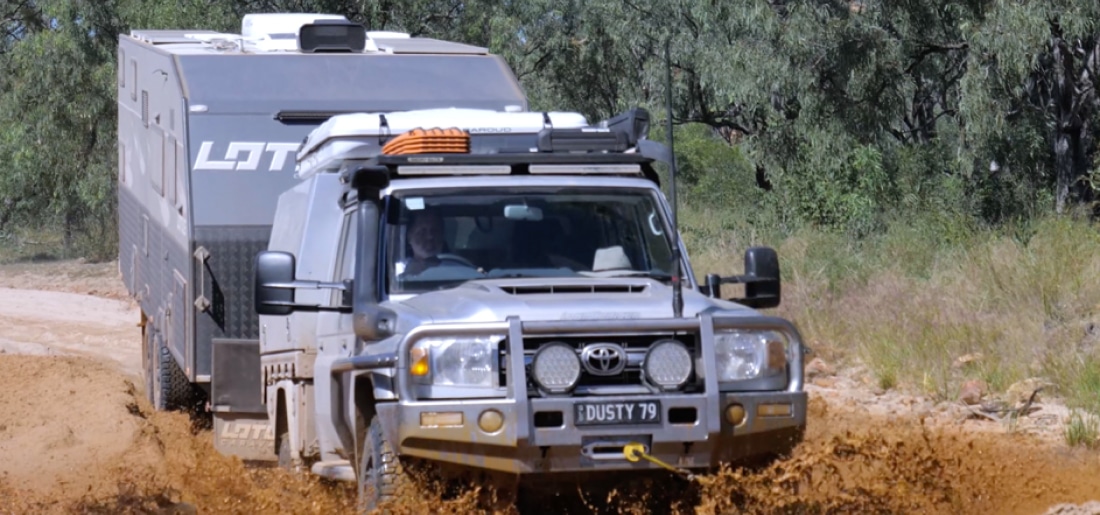 Dust Proof
Dust is inevitable when travelling on unsealed roads, but when you're towing, that pesky dust can get into all the wrong places.
We picked up a few ideas along the way:
Using cardboard (beer cartons work a treat) and duct tape to seal up fridge and air vents
Taping the door seals
Slipping our mattress and bedding into removalist-style plastic bags
Using plastic tubs to store clothing inside the van.
We also saw some excellent roof mounted snorkels; yes – the water snorkels for 4WDs. Owners with the set-up swear by them and say they don't need any other dust-proofing, as the positive pressure inside the van expels any dust. Some had self-installed, while others opted for a professional job. You will need to drill and cut into the van roof to fit PVC piping and snorkel head. Mistakes could be costly!
Protect The Under Body
Bumping over unsealed roads can see screws, latches and hinges rattle loose. But underneath, rocks can dislodge any electronic braking system cables, pierce plastic water tanks, snap off outside water taps, and even damage stabiliser legs.
At each overnight stop, make sure you check for damage and rectify where possible. Keep those electronic cables secure and hidden – cable ties come in handy for this. Also make sure your water tank is strong enough to withstand stone knocks; perhaps consider some sort of protective covering to help here, and maybe even look at fabricating some sort of stone guard to help catch bigger rocks before they do any damage. It could also help protect the front of your van from stone chips too.
If we had our time again, we would certainly install a custom-made stone shield for our trailer. You can purchase stock guards, but with draw bar modifications, we need a custom one. A stone guard will protect your van or trailer from damage and save money in the long run.
Kit Up
Thankfully, we had plenty of cable ties for temporary fixes on the electronic brake cables and were prepared for a range of potential off-road issues. Indispensable tool-kit items included a quality screwdriver set, heavy-duty duct tape, quality cable ties in various sizes, spare fuses, WD-40, and a socket set.
Sometimes, you might need to limp along until you arrive at major centre to find a replacement part, or stay longer while one is shipped to your location. In Broome, we replaced a stabiliser leg that caught one too many rocks on our off-road towing expeditions. While we were on the road, a good dose of elbow grease and some heavy hits with a hammer would send the leg into its upright position. Another time we stayed an extra day in Kununurra to await a shipment of spare parts from Perth.
Off-road towing a van or trailer is certainly doable on many of Australia's unsealed roads. It just takes a little pre-planning to make it safe and enjoyable.
This article was originally published on RVDaily.com
INTRODUCING OUR TRIPLE-AXLE FAMILY VAN
We ripped the covers off one of the stars of the recent 2022 Victorian Caravan Supershow, in the form of a brand-new, supersized, triple axle family off-road caravan model with the lot.