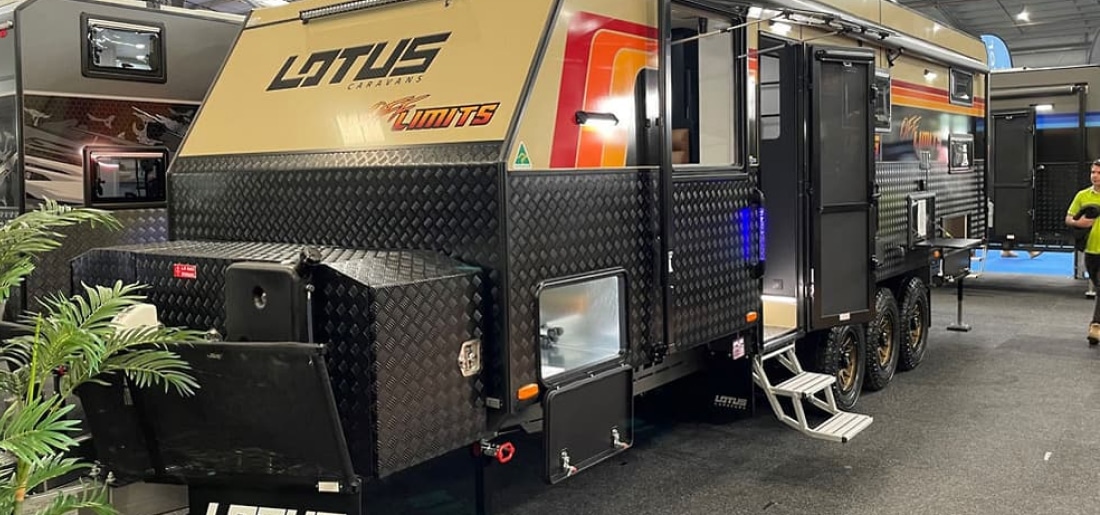 INTRODUCING OUR TRIPLE-AXLE FAMILY VAN
We ripped the covers off one of the stars of the recent 2022 Victorian Caravan Supershow, in the form of a brand-new, supersized, triple axle family off-road caravan model with the lot.
Jam-packed with just about everything a big family hitting the road for an extended period could ever need or desire, the new Off Limits family off-road caravan is loaded with comfort features including two rooftop air-conditioners plus a diesel space heater, a slide-out for the leather club lounge/dinette, roomy separate shower and toilet, and four large bunks in a rear 'kids' zone', to go with a walkaround north-south queen bed for the parents, up front.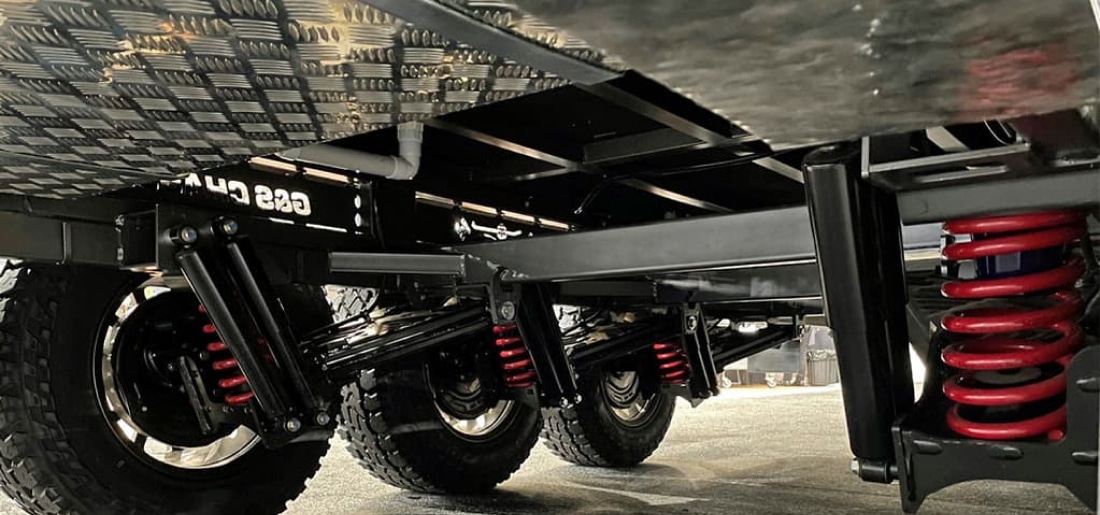 Designed for all-terrain travel, the new top-spec Off Limits family model rides on a heavy-duty 14in Truss chassis with a Cruisemaster DO45 coupling, AL-KO Enduro X trailing arm coil suspension, and Bulldog electric jack, while the timber framed body is clad in German made aluminium composite panels with black checkerplate side protection, and a one-piece structural floor.
A mesh stone guard protects a front toolbox that hides the gas bottles, with LED lighting all-round, a double electric entry step, external shower and four arm rear bumper with firewood cage, jerry holders and a single spare wheel, among other external features.
For off-grid camping there are three 95 litre fresh water tanks and a single 50 litre grey tank, plus a 400Ah Enerdrive lithium battery system with four 200W rooftop solar panels and a 50A solar charger. Keeping in touch is made easier with a i-Logic 4G internet booster unit, along with a King Jack antenna for a large screen TV.
The 26ft 5in (body length) display van also stood out with its eye-catching retro colour scheme based on the Sand Taupe exterior colour introduced last year, together with 80s-style gold alloy wheels with chunky Cooper mud tyes, and matching gold external tapware and plumbing.
The spacious and equally striking interior was finished with stylish matte black cabinetry and sinkware, caramel leather upholstery and distressed timber lino flooring, while the cupboard doors are lockable for bumpy dirt road travel. The large kitchen is designed for big family cook-ups with a deep black sink, Thetford cooktop, grille and oven, microwave and 188 litre fridge/freezer.
Other home-away-from-home comforts include a top-notch Fusion audio system and 3.5kg front load washing machine, while climate control is taken care of with some large opening windows and roof hatches, numerous Sirocco 12V fans, the diesel space heater and a Dometic Harrier air-con unit in the kids' bunk area to complement another one in the main living area.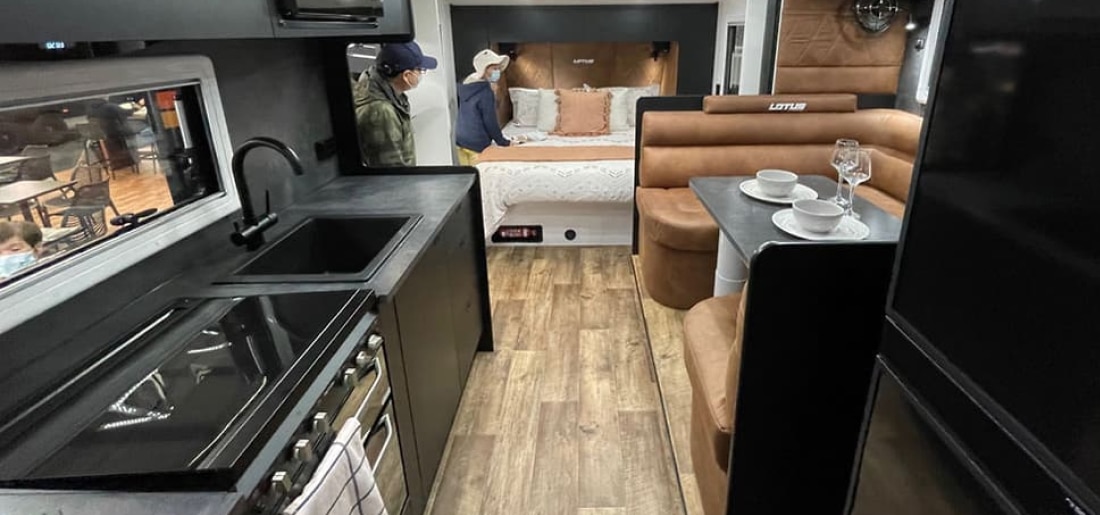 The separate toilet and vanity with sink and cross-hallway fibreglass shower also help create an apartment-style barrier between the kids' 'bedroom' and front 'parents' zone, ensuring the little ones won't get disturbed at night when using the bathroom or watching TV.
We also had on display another 25ft 10in grey/blue Off Limits 'van with three instead of four-bunk layout.
If you want to find out more about our new Off Limits caravan, contact us today
*This article was originally published on Caravan Camping Sales.
HOW TO CARAVAN IN THE WET
Rain. It's inevitable and usually unwelcome when you're caravanning, adding a whole new set of challenges – and some unexpected pleasures – if you're new to the game.