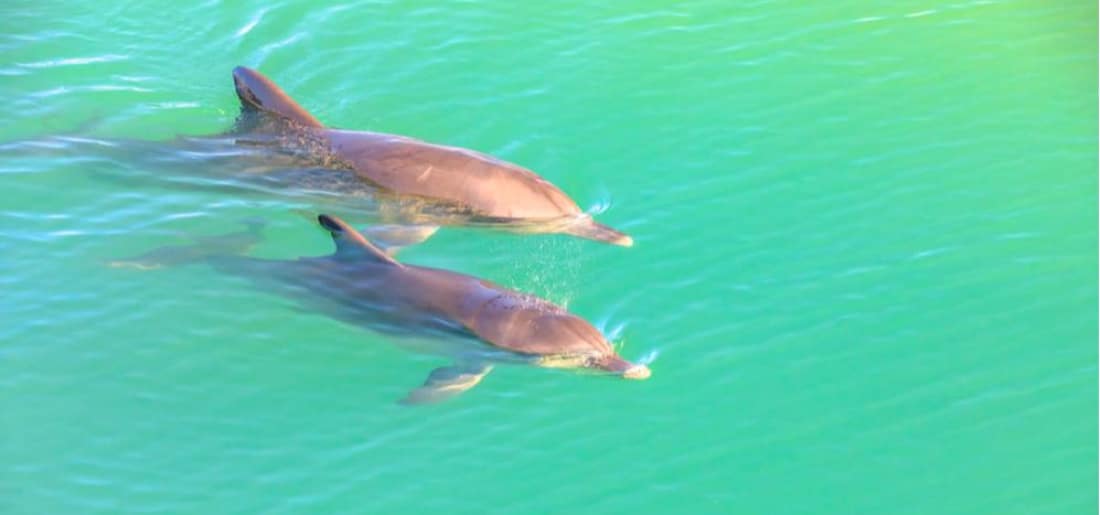 9 DAYS ALONG THE CORAL COAST
Drive north from Perth along Western Australia's Coral Coast and take in the dazzling Indian Ocean, hike the bewilderingly beautiful gorges of Kalbarri National Park, swim with whale sharks, meet dolphins and return to Perth relaxed and refreshed.
DAY 1 – PERTH TO GERALTON
Once you depart Perth,, begin to head north along the Brand Highway. First stop is Badgingarra National Park, approximately two hours away, where you will stretch your legs along the stunning two-hour Iain Wilson Nature Trail, home to wildlife such as kangaroos, emus and wedge-tailed eagles. The walk also offers the opportunity to see native wildflowers such as the world's largest eucalypt flower, the mottlecash.
Stop for a lazy lunch, another hour north, at the twin coastal towns of Dongara and Port Denison (try the charming beach shack Seaspray Beach Cafe or family-friendly Southerlys Tavern). Perhaps pick up local produce at the Silverdale Olive Orchard, or some award-winning Bushtucker Spiced from a tour at Illegal Tender Rum Co before continuing on for 30 minutes to Geraldton. Head straight to the beach for an afternoon swim and then buy dinner from the Geraldton Fishermen's Co-Op.
Spend the night at BIG4 Geraldton Sunset Beach.
DAY 2 – GERALTON TO CARNARVON
Before departing Geraldton, visit the HMAS Sydney Memorial, a tribute to the ship sunk in battle off the coast of Western Australia in 1941, claiming the lives of 645 sailors. Then begin the five-hour drive north, passing Kalbarri National Park on the way (you'll stop here on your return). Continue past the dolphin sanctuary of Monkey Mia (also to be explored on the return trip) to Carnarvon, where banana, mango and papaya plantations thrive on the fertile land around the Gascoyne River.
If you adore tropical fruit, take a tour of one of the plantations, or buy fresh produce from the Gascoyne Growers' Market. Wander the length of historic One Mile Jetty, part of Carnarvon's heritage precinct or head further north to the spectacular Carnarvon blowholes, where the ocean jets up to 20 metres (66 feet) high. Finish the day snorkelling in Carnarvon's calm coral-filled lagoon, filled with fish and shells and bordered by a white sandy beach (local stores offer snorkelling equipment hire). Stay the night at Coral Coast Tourist Park.
DAY 3 – CARNARVON TO EXMOUTH
Continue another four hours north to the township of Exmouth, which sits between the red cliffs of Cape Range National Park and the turquoise waters of Ningaloo Marine Park. Cool off at the beach, where you only have to swim (or snorkel) a few metres off the shoreline to see the tropical fish and multi-coloured coral of World Heritage-listed Ningaloo Reef. The most popular experience here is swimming with whale sharks, the world's biggest fish. These ocean giants, which can grow up to 18 metres (59 feet) long, congregate around Ningaloo Reef between April and July.
If you'd rather keep dry, take a glass-bottomed boat tour, where you can see schools of manta rays from May to November. Otherwise, enjoy a sea kayak tour past dolphins, turtles and dugongs. In the evening, dine at Exmouth's yachting marina, where restaurants, boutiques and wine bars line the canals. Then bed down at RAC Exmouth Cape Holiday Park.
DAY 4 – EXMOUTH TO CORAL BAY
Dedicate half a day to exploring the craggy landscapes of Cape Range National Park. Among many scenic hikes that thread through the area is the Badjirrajirra Loop Trail. On this moderate eight-kilometre (five-mile) hike you'll traverse the top of Cape Range, taking in rocky gullies, colourful gorges, spinifex bushland and views of the spectacular Shothole Canyon and beyond to Exmouth Gulf.
In the afternoon drive south to Coral Bay, where you can again swim at one of the town's dazzlingly white, sheltered beaches, or snorkel on Ningaloo Reef right off the shore. Spend the night in Peoples Park Coral Bay.
DAY 5 – CORAL BAY TO DENHAM (SHARK BAY)
After an early morning swim, drive south to Shark Bay World Heritage Area. Detour off the highway to see the remarkable Hamelin Pool, home to the oldest and largest living fossils on earth known as stromatolites and taking the form of dome-shaped rocks. Drive a little further to Shell Beach which, as the name suggests, is made up of billions of tiny shells instead of sand, and admire the beach's beautiful aqua water and bright white curve of beach, which stretches for more than 70 kilometres (43 miles). Stay overnight in the nearby town of Denham, at Denham Seaside Tourist Park.
DAY 6 – DENHAM TO MONKEY MIA
From Denham, it's a 30-minute drive to Monkey Mia, famous for the wild, bottlenose dolphins that visit the shallow waters here every day. After years of being fed by local fishermen, the dolphins swim into shore to interact with humans, so expect to feed them, or even swim with them in the clear aqua waters of the bay.
Along with dolphins, Monkey Mia is home to whales, manta rays, turtles, sharks, a huge array of fish and 10 per cent of the world's dugongs, which you can spot while snorkelling, scuba diving or on a glass-bottomed boat tour. The animal encounters don't end there: take your pick of riding a camel along Dolphin Beach, daily pelican feeding, or fishing for whiting, cod, snapper, mackerel and tuna. In the evening, learn about local Aboriginal culture and cook bush tucker on a campfire during the Didgeridoo Dreaming Night Tour.
Spend the night at RAC Monkey Mia Dolphin Resort.
DAY 7 – MONKEY MIA TO KALBARRI
Take a trip to Steep Point, mainland Australia's most westerly point. It boasts a spectacular view from the edge of a 170-metre (580-foot) tall set of sea cliffs named Zuytdorp Cliffs, which stretch for 150 kilometres (93 miles).
Kalbarri is located at the point where the picturesque Murchison River meets the Indian Ocean, so you'll find many aqua pursuits here. Swim or surf at Chinaman's Beach or relax on the foreshore and watch pelicans being fed.
Visit Rainbow Jungle, one of Australia's most beautiful parrot habitats, and stroll through tropical gardens to see spectacular specimens such as purple-crowned lorikeets, eclectus parrots and macaws. Finish the day with a sunset wilderness cruise down the Murchison River (including on-board drinks and refreshments) then retire to Murchison River Caravan Park.
DAY 8 – KALBARRI
Spend the day bushwalking through the stunning Kalbarri National Park, with its rugged ranges and rust-red rock gorges, and the Murchison River running between them.
Between July and October, this park is decorated with more than 800 blooming Australian wildflower species including banksias, grevilleas, kangaroo paw and red-blossomed eucalypts. While there are several shorter walks available, one of the most scenic options is the eight-kilometre (five-mile) Loop Hike. Starting and finishing at the park's most Instagrammed sight, a wind-eroded rock arch that frames the river view below called Nature's Window, the path winds down to the banks of the Murchison River before climbing back to the top of the sandstone cliffs.
Another favourite is the Four Ways Trail (Idinggada Yina), which starts at the pretty Z-Bend lookout. For a bird's eye view, consider taking a scenic helicopter flight over the park, coastline and breathtaking Abrolhos Islands. This evening, eat at one of Kalbarri's busy restaurants. There are different experiences on offer including a waffle house, a seafood shack and a pizzeria.
DAY 9 – KALBARRI TO PERTH
Rise early because today you'll drive four hours south to Stockyard Gully National Park, where you can walk through a series of limestone caves that lead to an underwater river system. You can admire colonies of sleeping bats overhead as you traverse the amazing caverns.
From here, it's only one hour south to beautiful Jurien Bay, where you'll find yet more white beaches and coral reefs perfect for snorkelling. Also here you can refuel with a selection of laid back eateries, such as Sandpiper Tavern and Pizzeria, before arriving at the day's final destination, just 20 minutes away. Cervantes is a fishing village famous for its seafood.
When the sun begins to set, take the 15-minute drive to the Pinnacles, a much-Instagrammed desert in Nambung National Park, where thousands of ancient rock pillars rise from the sands like weathered tombstones. Of course, you can visit the Pinnacles at any time of day but sunset offers one of the most impressive viewing experiences.
Spend your final night at Perth Central Caravan Park.
This article was originally published on www.australia.com.
SIX CARAVAN-COOLING TRICKS AND TIPS
With summer in full swing, here's some tips on how to keep your caravan cool.