AIR CONDITIONING TIPS FOR CARAVANS
Travelling around Australia with a caravan is one of this country's favourite pastimes. From the beaches of Western Australia to the leafy Victorian High Country, you can travel in comfort and style with a Lotus Caravan. One thing that you can't control is the weather and, in Australia, the weather can be volatile and unpredictable. What you can control is the climate within your caravan and that's why it's important to opt for high-quality caravan air conditioning and to service it as required.
Difference between air conditioners for caravans and air conditioners for homes
Whilst they both do the same job, the main difference between air conditioners for caravans and air conditioners for homes is that the caravan units are engineered specifically for use in a caravan and are designed to withstand the conditioners that it will face on or off road. Off road caravan air conditioners will experience significant vibration from corrugations, bumps and sway, insects and importantly, weather conditions like rain and wind.
Types of air conditioning for caravans
Air conditioners for caravans can generally be divided in to two types – rooftop units and built-in air conditioning units (also known as ducted caravan air conditioning, under bed or under seat air conditioning).
Built-in air conditioning
Build-in air conditioning units are generally installed under beds, bunks, seating or in cupboards, with cut out ducts that distribute cool air.
Ideal for
Pop-top caravans
Camper trailers
Single skin roof camper vans
Benefits
Less expensive than rooftop air conditioning
Does not increase the height, weight or wind resistance of your caravan's roof
Often weigh less than rooftop air conditioning units
Drawbacks
Built-in units take up valuable living or storage space
May take longer to cool down your caravan, as cool air tends to drop
Rooftop air conditioning
Rooftop ait conditioning units are installed in the roof of your caravan, as the name suggests, and are the most common type of caravan air conditioner.
Ideal for
All caravans with fixed roofs
Benefits
More efficient than built in units, as cool air tends to drop
Do not take up valuable living space within your caravan
Easy to install
Drawbacks
May increase wind resistance of your caravan, although good quality units are engineered to minimise resistance
Increases height of your caravan, which may affect your ability to enter some areas or spaces like garages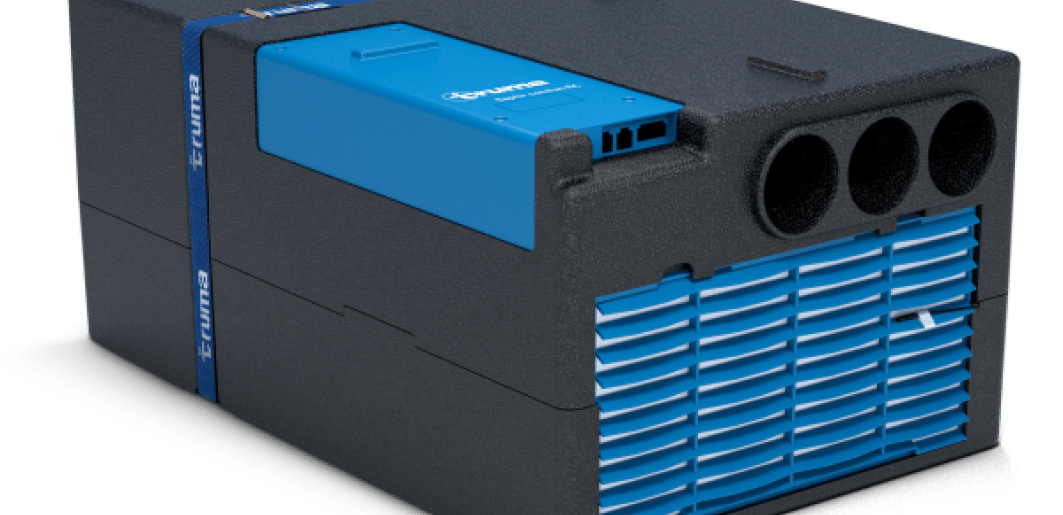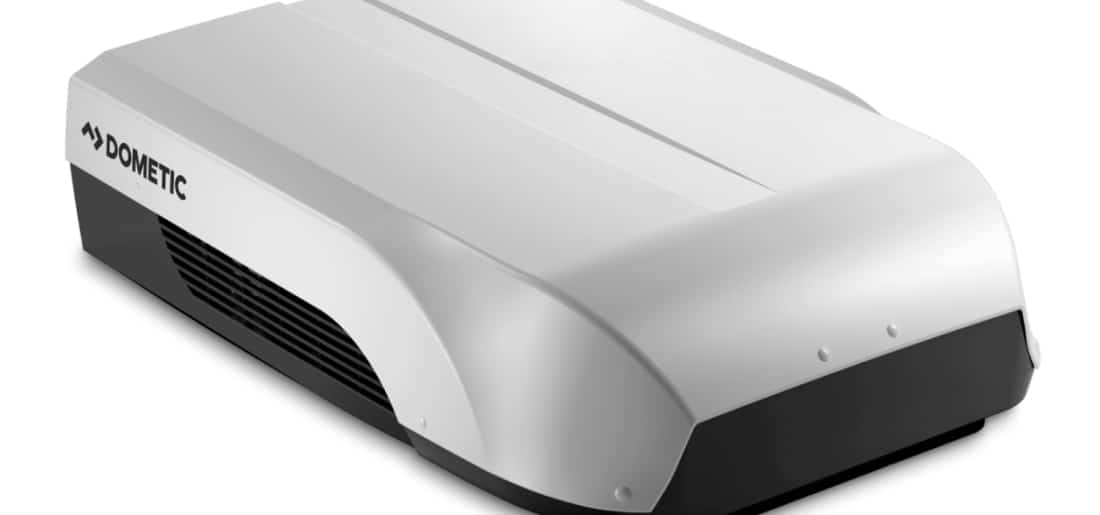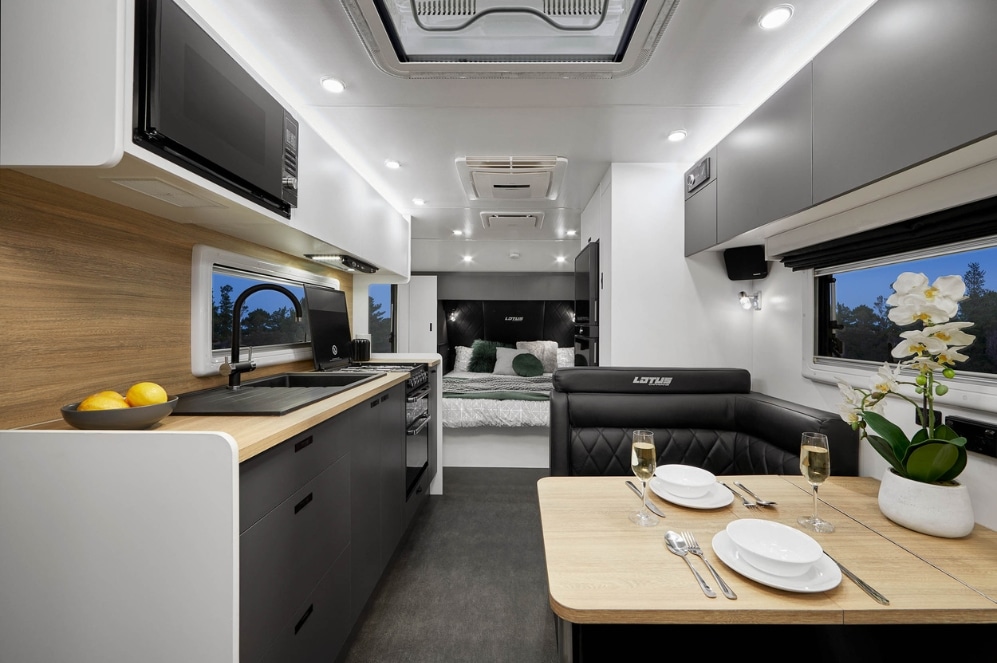 Which air conditioning units does Lotus Caravans use?
Lotus Caravans only uses the best rooftop and built in air conditioning units in our products. We offer rooftop air conditioning as standard, as we believe this is the best option for our range of caravans. The range of units that are available in the Lotus Caravan range are designed to withstand the conditions that the caravan itself can, add the minimal weight, use the least amount of power and look great at the same time.
The units that we use currently are:
Dometic Harrier Plus – standard in most floorplans from 22 feet upwards
Dometic Harrier Lite – standard in the Off Limits, where two units are required due to size
Dometic Ibis 4 – standard in floorplans under 22 feet
Truma Saphir – built in unit, available upon request
How often should you get your caravan air conditioning serviced?
How often your caravan's air conditioner requires servicing depends on your usage – how often you use it and in what conditions. For instance, if you frequently use your air conditioner whilst in dusty conditions or underneath trees and other plants that will drop pollen, leaves and other debris, you will need to service your air conditioner more frequently. Travelling in spring may increase the amount of debris that collects in your unit's filters due to the pollen count in the air. Generally, you should clean your filters at least once a year. Deep cleaning is required every two or three years minimum.
Do I need to get my caravan air conditioner re-gassed?
Regassing is generally not a requirement for caravan air conditioners that are in working order. Unless your caravan is having trouble cooling the air even after regular maintenance, there may be a leak in the pipes that needs repair. If you think this might be the case, you should visit a professional to assess and repair the issue.
If you need your caravan air conditioner serviced or repaired, get in touch with someone from our network of repairers.
HOW TRAVELLING CAMPERS TOOK THE LEAP TO FULL-TIME CARAVANNING
After completing a 3 month trip in 2019, travelling the east coast and up to Cape York in our 2012 Lotus Caravans Sprint LE, we fell in love with caravanning and knew that travelling was something we wanted to make more permanent.