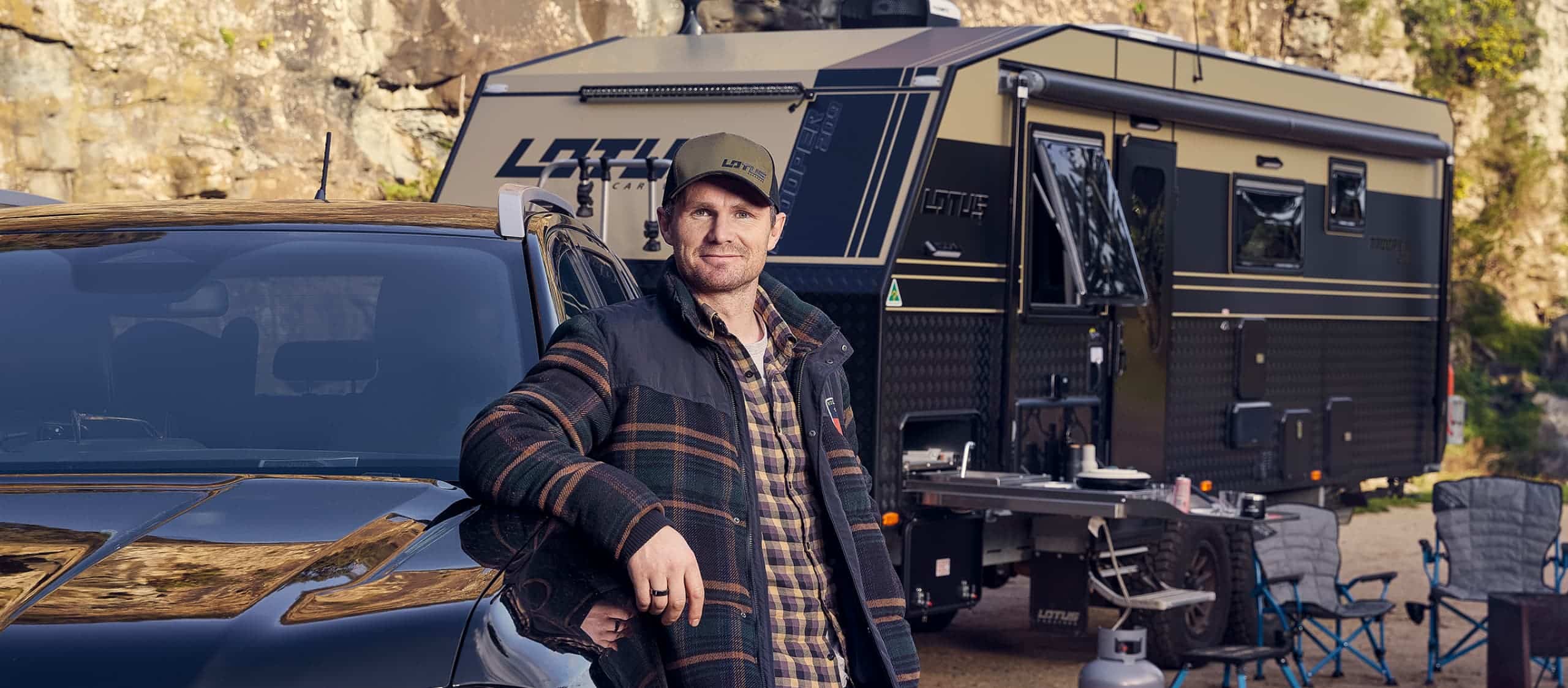 Unlock your freedom with Lotus Caravans
Patrick Dangerfield is one of the most accomplished footballers in Australian history. He's an avid outdoorsman with a passion for fishing and surfing, hosts one of the country's most popular podcasts, as well as a radio show, and fronts events, and charities, not to mention multiple brand ambassadorships. When the opportunity arose to work with Paddy, it was a natural fit for Lotus Caravans.
At Lotus Caravans, we're passionate about forging unforgettable memories with loved ones, exploring the breathtaking landscapes of Australia, and indulging in life's simple pleasures. After all, we created Lotus Caravans to pursue this love for adventure and to encourage every Australian to get out and do the same. There is no truer example of this ethos than that of Patrick Dangerfield, somebody who genuinely shares our intense passion for the outdoors.
When time is limited as it is for Paddy, it's a luxury. When Paddy has downtime, he loves nothing more than getting out in his Lotus Caravan with his family, making memories at his favourite fishing spots, and exploring Australia. For Paddy, it's all about being present. We recently caught up with him as he wrapped up the 2023 footy season and headed out for a weekend on Victoria's Great Ocean Road for a spot of angling with his son George and his Dad John.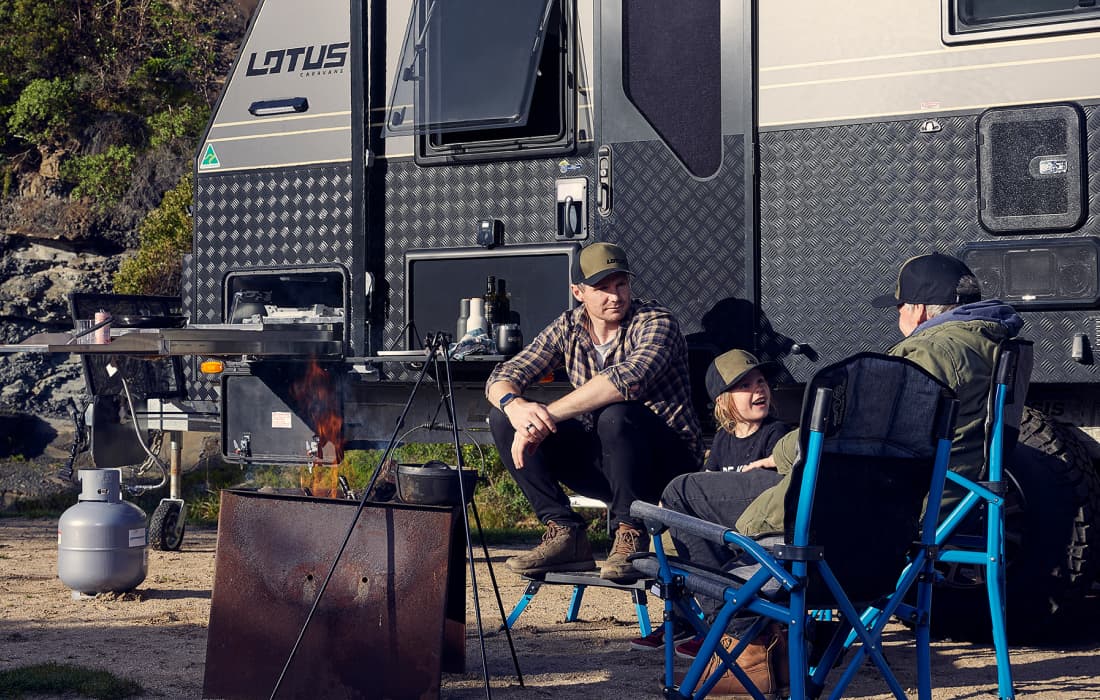 We spoke to Paddy about what he values most during his time off, and we weren't surprised to learn it was his unwavering commitment to his family. Having a Lotus Caravan unlocks his freedom, and allows him to venture off the beaten track, and spend one-on-one time with his loved ones while doing the things they love together without interruption. Owning a Lotus Caravan also provides peace of mind. Paddy knows that no matter where he is, he can safely and comfortably tackle any terrain. And when you travel with young children, like Paddy and wife Mardi do, there is nothing more important.
Paddy designed his 2023 Lotus Caravans Trooper to align with his family's travel style. As every parent of young kids will understand, having enough power to run all the comforts of home, wherever you are, is vital. That's why the Dangerfields made sure to include the Monster Power upgrade with their Trooper. With 900Ah of lithium battery power and 1000W of solar, there are never any compromises on the road.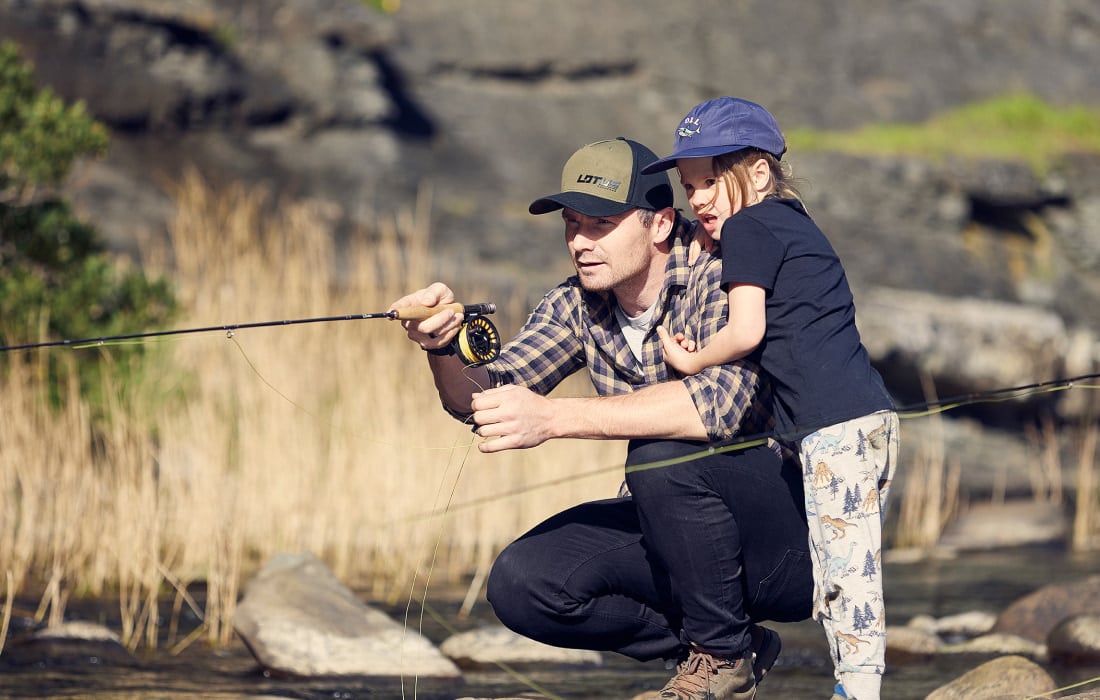 As a self-proclaimed 'part-time fisherman', adding the outdoor slide-out kitchen was another obvious choice. Whatever Paddy and the kids snag on their travels, there is dedicated space to fillet, store, clean, and BBQ the day's catch. The slide-out Dometic kitchen upgrade includes a 3-burner BBQ, sink, as well as multiple storage compartments.
Watch our full interview with Paddy as he shares his off-road weekend adventures in his 2023 Trooper from Lotus Caravans.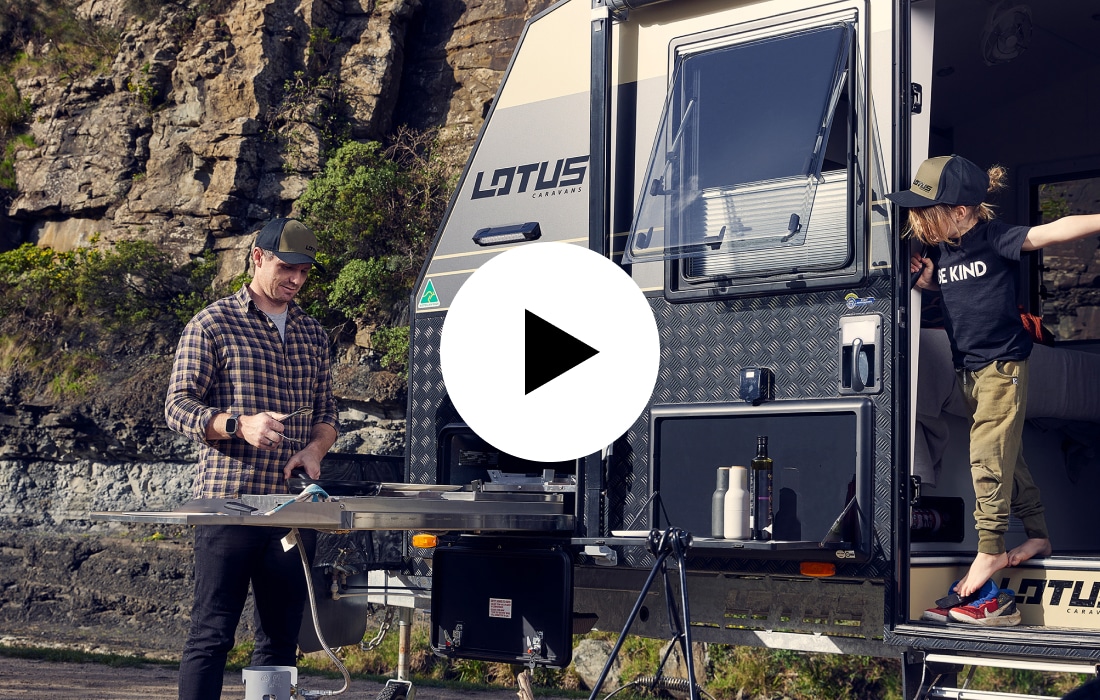 You can design your own custom Lotus Caravan using our Caravan Builder tool on our website.
We're coming for you, Townsville!
We're thrilled to announce that Lotus Caravans will now be available for you to experience in person in just about every state, Australia-wide. Lotus Caravans is proud to welcome Rising Sun Townsville to our exclusive dealership network. This addition comes soon after welcoming Adelaide dealer Great Southern RV to our stable.