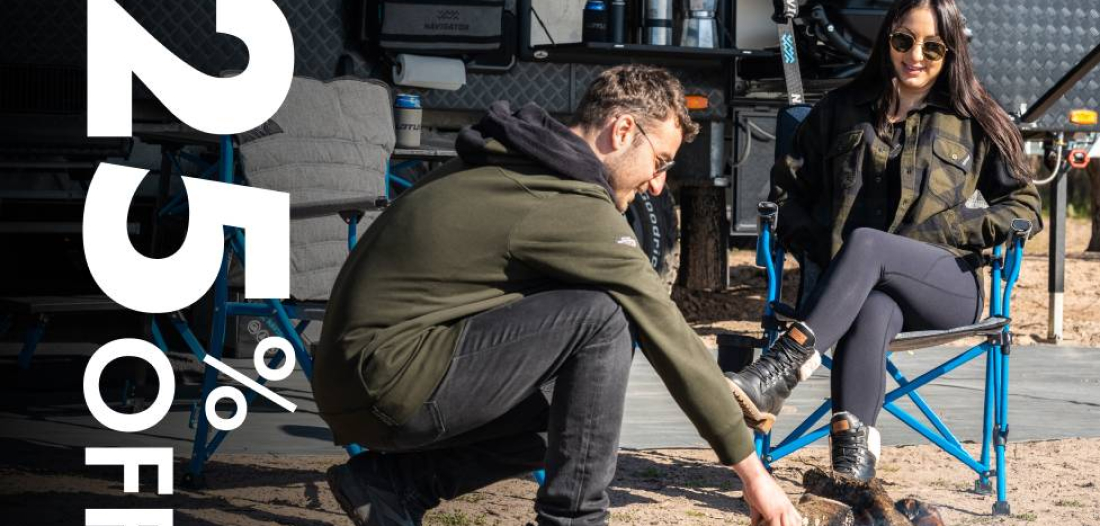 HIT THE ROAD IN STYLE THIS WINTER!
Enjoy 25% off Lotus Caravans Winter Gear by Navigator
Whatever the adventure, look the part this Winter in our premium range of performance gear from Navigator. The Lotus Caravans winter apparel range is crafted from quality materials, and designed for functionality in all environments.
And, for a limited time only, we're offering 25% off our Lotus Caravans Winter Gear collection so you can stock up in time to hit the road.
Navigator is an outdoor caravan, camping & adventure brand creating purpose-designed caravan and travel accessories. Navigator uses premium quality materials tested by their team of avid outdoor enthusiasts, together with the experience of manufacturing products in the 4WD industry for over 15 years.
The Lotus Caravans Winter Gear range includes a contemporary selection of men's and women's flannelettes, puffer vests, and hoodies. Constructed from the best in innovative performance apparel technologies, and designed for maximum comfort and style, the collection covers a full-size range in both men's and women's fits.
Discover the comfort of our 320gsm brushed fleece Adventure Hoodie, or the versatility of our cozy microfleece-lined Puffer Vest, as you stoke the fire on your next Winter getaway. Available in our signature Lotus Caravans black and olive colourways, and complete with quality hard-wear for the ultimate in functionality, the cold will be the last thing on your mind this Winter.
Explore our range of Lotus Caravans apparel from Navigator, and look and feel your best this season. Shop our Winter Gear range of Lotus Caravans Flannelette, Puffer Vest, and Hoodies and receive 25% off until 11:59pm on Wednesday 7 June 2023. Discount applied at checkout, visit our website to learn more.
HOW TO TOW A CARAVAN
Embarking on a caravan adventure is an exciting way to explore the great outdoors and create lasting memories. However, it's crucial to prioritise safety when towing a caravan.