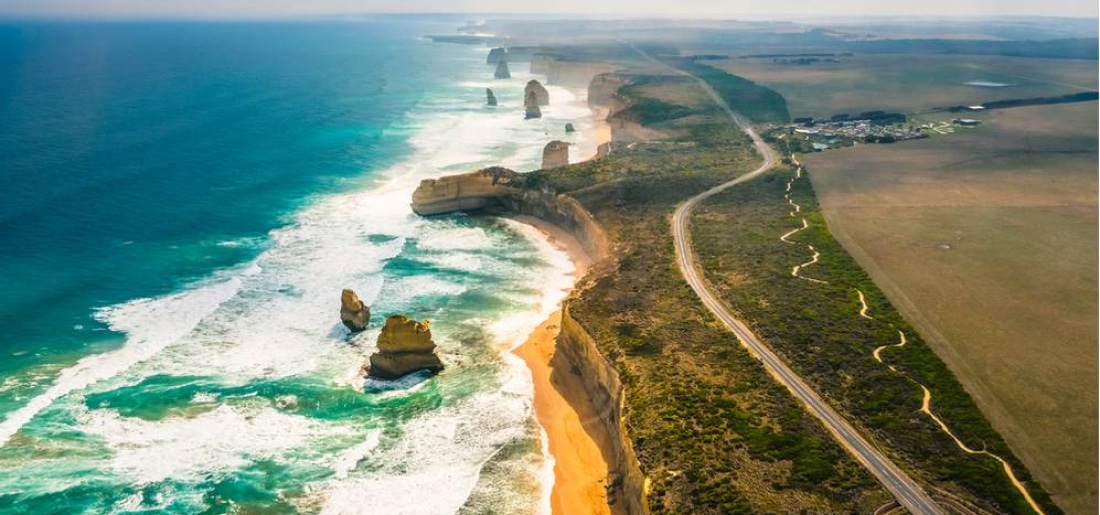 THE GREAT SOUTHERN TOURING ROUTE
Take a road trip along Victoria's eye-popping southern coastline, through Aboriginal history and into sparkling spa country. It's nature, nurture and wonder all the way.
Spot wildlife lurking in the bush, whales cruising the ocean and throw a boomerang, delving into the ancient Dreamtime. Taste the gifts of the earth and ocean at the source – mineral springs wellness, fresh seafood and award-winning wines.

Day 1: Melbourne to Anglesea
It's time to escape the big city and head west on Highway One for 30 minutes to reach Werribee Open Range Zoo. Hang out for an hour or two where the wild things are: gorillas, lions, hippos, cheeky meerkats and more. Buckle in – the open-air safari vehicle goes off-road to get you closer-than-ever to giraffes, rhinos and zebras on the grassy plains. Back on the road for 30 minutes, and you're in Geelong: a lively bayside city.
Call into the National Wool Museum to discover a timeless story before tasting Aboriginal-inspired cuisine at Café Narana. Or make a beeline for Bellarine Peninsula's bevy of wineries. Ask for a table on the deck at Jack Rabbit Vineyard. Don't let the sweeping bay views distract you from the lunch menu brimming with local produce and cool-climate wines.
Meander your way to Torquay, on the Surf Coast, the birthplace of Aussie surf culture. Stand tall on the cliffs above iconic Bells Beach where international pro surfers flock to compete in the annual Rip Curl Pro Easter Classic. Wander down the steps, get your toes in the sand and the waves. Dive into surfing heritage at the Australian National Surfing Museum.
Shop the outlet stores for local-born big surf brands, Quiksilver and Rip Curl. From here, you officially hit the Great Ocean Road for the first time, and wind your way along the coast to Anglesea. Check out the Anglesea Golf Club for a unique dinner experience –a hearty bistro meal overlooking kangaroos grazing on the nearby fairways.
Day 2: Anglesea to Warrnambool/Port Fairy
Wake early and limber up with a pre-breakfast stroll along the Anglesea River, then hit the Great Ocean Road for one of the world's unforgettable drives. Golden beaches, towering cliffs, giant rock formations, landmark lighthouses, moody rainforests and village charm are all on today's menu. Pull over at the Memorial Arch to find out who built the road and why. Hug the stunning coastline for 40 minutes to Lorne, famous for its beach resort feel, shopping and trendy café strip.
The surf beach here is mesmerising; allow time to sit and watch the waves roll in. Or swing into the rainforest hinterland for a daredevil zipline through the tree canopy at Otway Fly Treetop Adventures. Stop at Kennett River to spot koalas in the wild then onto Apollo Bay and Chris's Restaurant for a local-sourced lunch with beautiful bay views.
A detour to Cape Otway Lightstation is always a great idea. Atop the spiral staircase, come face-to-face with the lighthouse keeper and vast Southern Ocean views. Keep your camera handy: the mighty 12 Apostles are up next. Soak up the breathtaking views from the lookout, or take a helicopter ride for a bird's eye view of this entire scenic coastline. On the road, watch nature's drama unfold at every turn, from Loch Ard Gorge's perfect eeriness to the Bay of Islands' windswept beauty. Reach Warrnambool in time to take in the maritime magic of the sound and light show at Flagstaff Hill Maritime Village.
Day 3: Great Ocean Road to The Grampians
Ease into your day with a 5.7-kilometre (3.5-mile) amble along Warrnambool's award-winning Foreshore Promenade. Between June and September, try your luck at whale watching from Logans Beach. Drive 90 minutes north through rich Western District farmlands and reach the southern tip of the Grampians National Park. For a regional cultural fix, sidetrack to Hamilton Gallery and ogle a diverse collection of artworks. On your way back, drop into Pierrepoint Wines to sample pinot noir before an early lunch at Parker Street Project in Dunkeld.
The daunting Grampians escarpment dominates the skyline and hints at what's ahead. You'll feel drawn to understand the ancient landscape, long-known as Gariwerd. Delve deep into the regional Aboriginal heritage at Brambuk – The National Park and Cultural Centre in Halls Gap. Get adventurous with a boomerang throwing demonstration, a didgeridoo workshop or a tour of age-old rock art sites.
Lace on your hiking shoes and bushwalk along the Grampians Peaks Trail, keeping an eye out for wildlife. Climb high for lofty views and natural vistas. Tick off the Grampians must-do sights: Boroka Lookout, Reeds Lookout, The Balconies and Mackenzie Falls. With hundreds of kilometres of tracks and trails criss-crossing the park, you'll easily find a quiet space for reflection, and the perfect spot for an afternoon snack at Zumsteins picnic area. Be prepared to share the solitude with a grazing kangaroo, waddling echidna or illusive lyre bird.
Day 4: The Grampians to Ballarat
Head north east towards Ararat and into award-winning wine country speckled with boutique and big brand vineyards. Pause along the way for cellar door tastings and winemaker catch-ups at Fallen Giants or Grampians Estate. Drink in vegan-friendly shiraz and astonishing views at Mount Langi Ghiran vineyard. At Ararat, dip into the fascinating history of Chinese settlers at Gum San Chinese Heritage Centre.
A 50-minute drive and you arrive in the big country town of Avoca, gateway to the Pyrenees Wine Region. Lunchtime is for more memory-making at Blue Pyrenees Estate with an exquisite estate-grown shiraz and a grazing board of fresh local produce.
Gold rush history comes alive at Ballarat's Sovereign Hill – a vast outdoor museum recreating the gold diggings, transporting you back to the 1850s. Pan for gold, go underground on a mine tour, ride a horse-drawn carriage up Main Street or browse for old-style boiled lollies and hand-crafted candles in the shopfronts. Find costumed characters of the day, adding a human element and a ready smile for photo snapping.
Day 5: Ballarat to spa country
Pick-up breakfast to go, and start the day with close encounters of the animal kind at Ballarat Wildlife Park. With more than 100 free-range kangaroos on site, you're sure to get face-to-face with a roo or two, before turning your attention to koalas, wombats, reptiles and more. Do a turn through the hallowed halls of Art Gallery of Ballarat.
Culture fix done, it's time to set your sights on Daylesford and pure indulgence in Australia's premium spa country. En route, drop into Creswick Woollen Mills. Here, follow the story of fibre from an alpaca's back to balls of yarn on the shop shelf. Lunch lightly at Wombat Hill House Café, set high amongst picture-perfect botanical gardens.
This region is famous for the health-giving mineral spring waters that bubble naturally to the surface. Massages, beauty treatments and pampering are always on the agenda. Why not tap into local wellness with a treatment or rejuvenating soak at Peppers Mineral Springs Spa?
Day 6: Spa country to Melbourne
Spoiling yourself takes many forms in spa country. Nurture your inner foodie with a masterclass at the Lake House Cooking School. Browse Daylesford's main street for specialty chocolates, second-hand books, oldwares, boutique fashion and barista coffee worth writing home about. On Sunday, don't miss the market with its offbeat vibe and oodles of local craft and produce. Fill your belly (and the car boot) with the best of the best.
Wend your way back to Melbourne via Trentham, where the Red Beard Bakery offers superb coffee, pastries and sourdough-making classes. Make the most of the day with a side tour through Woodend to Mount Macedon. Drive up to the peak, past lush private garden estates, for glorious views back over Melbourne's outskirts and city skyline.
This article was originally published on www.australia.com.
10 TIPS FOR OUTBACK TRAVEL
The Aussie population has never been keener to get out past the black stump and explore Australia. Here's our quick-hit list of 10 tips to make outback travel smoother.