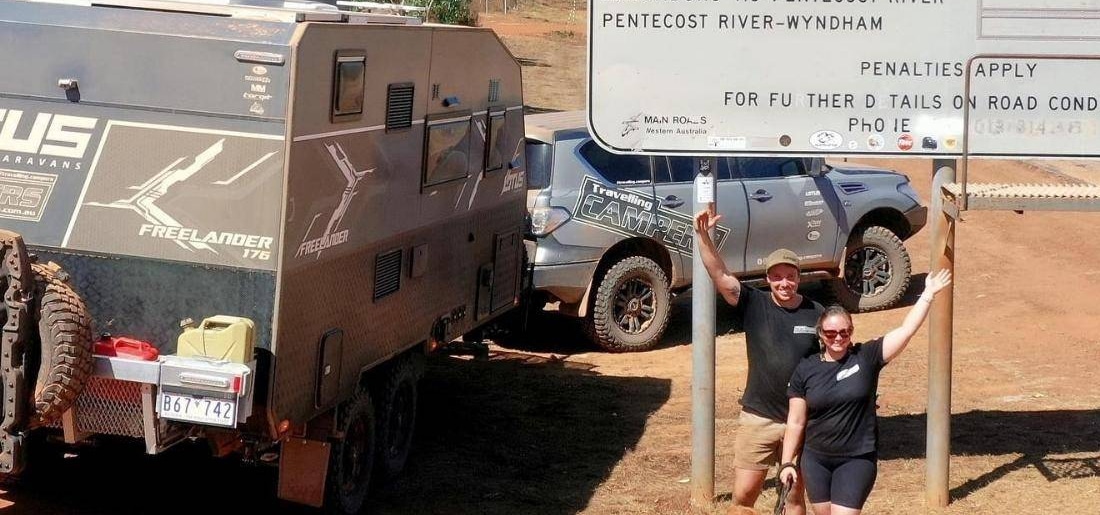 TRAVELLING CAMPERS' 5 BEST CARAVAN CLEANING TIPS
Car washes for caravans
Whenever you come across a car wash, use it! Especially if it's big enough to fit in with the caravan hitched on. Washing the outside of caravan like this regularly makes a world of difference to the longevity of your caravan exterior.
Vacuum cleaners for caravans
Invest in a good quality handheld, rechargeable vacuum. It's 2022 – why are you still sweeping?! Our handheld vacuum would have to be one of our most favourite cleaning items in the caravan. We travel with our Golden Retriever, so there is always hair everywhere and we sometimes find ourselves vacuuming up to three times a day! It's also super handy for vacuuming inside the car.
Vacuum the bed
For the dog owners, especially those who let their dogs inside the caravan (and maybe on the bed too), we travel off-grid a lot more often than being on-grid or in caravan parks, so in-between linen washes, vacuuming our bed has become the new normal for us! It's super easy with a handheld vacuum with plenty of different attachments to use too.
Microfibre cleaning cloths
Gloss or matte? The great debate on which is easier to keep clean! Our opinion is that both are easy to maintain, especially with a good quality microfibre cloth. We have had gloss in both our Lotus Caravans so far and have found it super easy to keep clean with a simple microfibre cloth.
Sirocco fan cleaning tip
Sirocco fans – they can get very dirty and built up with dust if you're not on top of cleaning them. An easy way to clean them is by taking off the sliver frame. It's super simple – turn the fan around so you're looking at the back of it, then pinch the four clips to release the frame and gently pull it off from the front. Now you have easier access to the fan to get into all those nooks and crannies. Once you're done, the frame simply clicks back on.
We hope these super simple tips make cleaning your caravan easier! Happy cleaning Lotus Caravans owners!
Written by Travelling Campers
See more from Travelling Campers by following them on socials or checking out their website:
GENERAL CARAVAN MAINTENANCE
Caravanning is a fantastic way to explore the country, but it's important to ensure your caravan is in good condition to ensure a safe and enjoyable journey. Regular maintenance of your caravan is essential to keep it performing at its best, increase its longevity, and reduce the risk of getting stuck halfway through your trip.