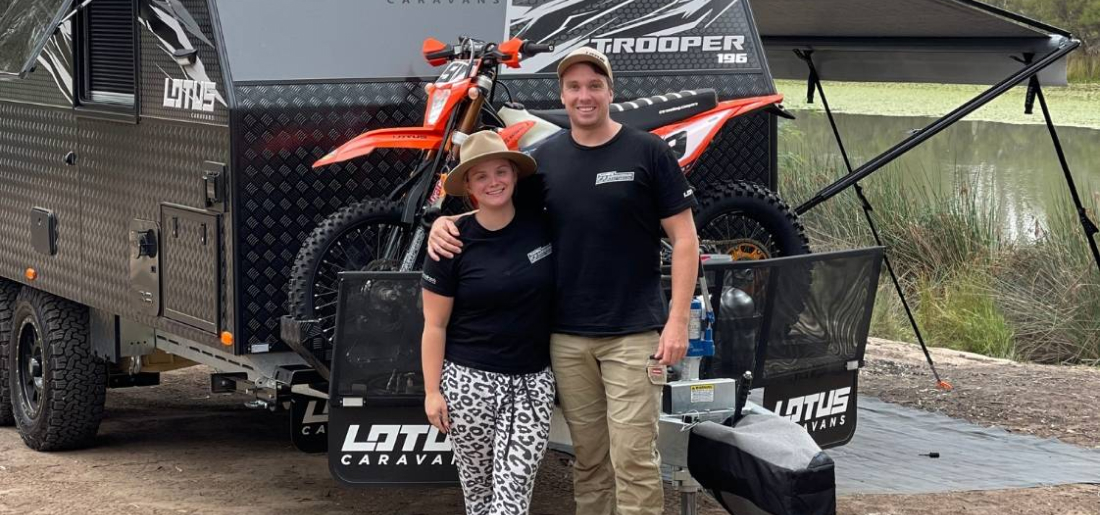 TRAVELLING CAMPERS' SCARIEST STORY WHILST CARAVANNING
Going back to a few months ago, we needed to find somewhere to stay around the SEQ coast area, as Josh was flying up to Cairns for an event. He wanted to make sure his girls, myself (Mikayla) and Jorja (our Golden Retriever) were safe for the few nights he was away. We found an awesome caravan park right near the beach, we THOUGHT this would be great!.

Off Josh went to the airport and headed up to Cairns. Jorja and I were having a great time. We went for walks along the beach, I rode my bike to get around town and enjoyed getting things done during the day. On our last night alone before Josh was back, I began to doze off after watching a movie. In my half asleep-half awake state, I heard a noise at the front of the van – a bit like the drawbar chains clinking together. I thought for a split second that it must be someone taking their dog out and it might have accidently knocked the chains, or it could have been a possum or even a 'bush turkey' because there were so many around. Suddenly, I realised in that split second that it definitely wasn't any of the above!

I shot out of bed and turned on the awning lights, jumped outside and saw that my mountain bike was GONE! I had it sitting under our awning. No, it wasn't locked up but I thought it would have surely been safe under there! I was completely shocked. I could see that Josh's KTM mountain bike was still on the front of the van tied down so that was a slight relief.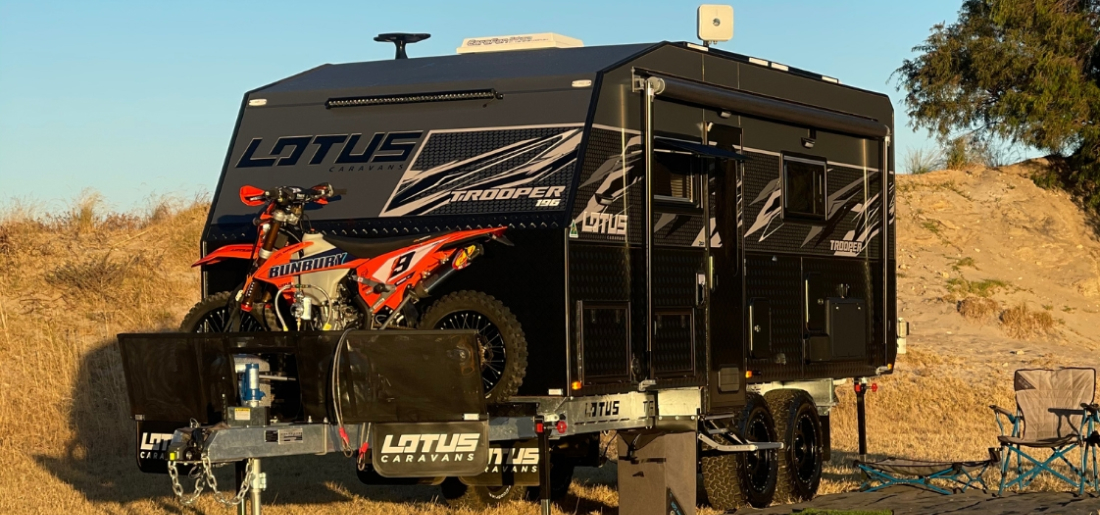 went back inside and called Josh straight away. As soon as he picked up the phone I turned into a blubbering mess – I could barely get my words out! "M-m-m-my-my bikes gone!" I cried out to him! For the next couple of minutes, I explained what had just happened and Josh tried to calm me down. After a while on the phone to each other, I went back outside to check on his bike. But it was gone now too!

In a panic after seeing his bike was now gone, I realised the robber must have still been outside trying to get Josh's bike while I was out there after mine was taken. The robber would have been hiding on the other side of the van and the noise I initially heard was the robber cutting the tiedowns on Josh's bike! Now I was super freaked out because the robber was out there lurking in the dark with a knife! Again, Josh eventually calmed me down and we decided to call the local police. After what felt like an eternity, the police eventually arrived and I explained everything to them as well.

Fast forward to the next morning – Josh arrived back after switching to an earlier flight and not getting any sleep at all. I felt so much better once he got back. Straight away, we started brainstorming where these bikes could have ended up. We even looked on websites like Gumtree and local Facebook selling groups to try to track them down. There was only so much that the site's reception could help with. They sent the CCTV footage to the local police station and said they would let us know if anything came up. This went on for two days, trying to figure out where our bikes had gone.

I should also note that we had travelled for 12 months with Josh's KTM dirt bike on the front of our caravan and not one incident occurred. This was our first week into travelling with mountain bikes! It had gotten past the point that the bikes were gone and we just wanted them back because of the distressed these robbers had caused!

It came to day three of the bikes being missing, we received a call from reception asking if we could complete an incident form for their records. We didn't think too much of this as we had already given all our information and details of the incident to the police, but eventually later that morning we went into reception. The receptionist said she had some information about a stolen bike, we couldn't believe it! We were hoping this would be about our bikes because not only ours were stolen that night but also 6 others!

The receptionist had a note from a phone call she received and said a local fellow rang up to say he saw a bloke he knew of in the main part of town with a flash looking bike and knew very well this bloke didn't buy it, so he asked where he got the bike from? Apparently, the guy replied "I stole it from _____ caravan park Sunday night!" as proud as punch! AND it was Josh's exact description of his bike, an orange and black KTM mountain bike!

Josh and I were both shocked and couldn't get our words out quick enough to say that was his bike. The receptionist gave us all the information she had from that phone call. The man who rang also gave us this robber's name and said to look for him at the local homeless shelter, as that's where he usually hangs out. Josh couldn't get out the door quick enough! We felt so much closer to being able to find our bikes.

Firstly, Josh went to the homeless shelter to look for the robber – no luck there but apparently he left only 10 minutes prior to Josh getting there. Continuing on for hours, Josh went around town trying to retrace where this robber had gone. Josh even approached a group of strangers and asked if they knew him and that he stole our bikes. "Oh that flash KTM one? Yeah, I seen him on it! Is that your bike?". We couldn't believe it! Everyone seemed to know who this robber was and that he was getting around on a stolen bike!

After an extremely long day of searching for these bikes and with not a lot of sunlight left, Josh eventually got back both our mountain bikes that had been stolen! We were so happy to have them back. The moral of the story is to always lock your belongings up and not to get complacent. If the bikes had have been locked up, we wouldn't have lost three days trying to look for them. We are super grateful to have our mountain bikes back but Josh cannot wait to have his dirt bike back on the front of our 2023 Trooper in the new year.

You can listen to this story in full on our YouTube channel:
HOW LAPPING THE ISLAND TOOK THE LEAP TO FULL TIME CARAVANNING
Lapping The Island (a.k.a. the Quinn family) have been Lotus Caravans ambassadors for several years, showing the world what life is like for a young family on the road. With a down-to-earth and sometimes irreverent style, Lapping The Island show you the real Australian dream – exploring the greatest country on earth with your loved ones. See how they tool the leap to full time caravan life below.