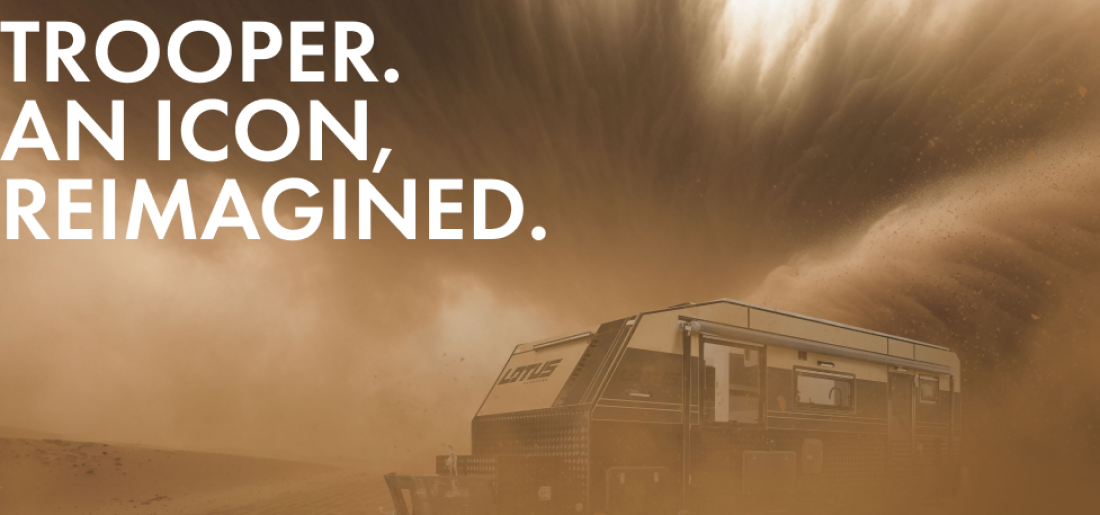 WHY THE NEW LOTUS CARAVANS TROOPER IS THE BEST CARAVAN OF 2023
Absolutely unrivalled in performance, reliability and comfort, the 2023 Trooper from Lotus Caravans is thought by many to be the best caravan of 2023.
Our latest model, constructed in Australia from a unique hybrid timber and aluminium frame, is known to have the strongest build quality of any hybrid frame on the market, built on a ground-breaking galvanised chassis from G&S / AL-KO. With Cruisemaster ATX suspension and a Dometic Dust Reduction System as standard, the new Trooper is designed to comfortably take you further than ever before.
When it comes to energy efficiency, the Trooper is arguably the caravan of the year for 2023. The new Enerdrive B-TEC lithium batteries power all new release vans, a highly efficient, fast-charging, and long-lasting battery system that incorporates wireless Battery Monitoring technology. With an additional 800W of solar power on board, and the Ener-drive Battery Monitoring mobile app, you can keep an eye on your van's battery capacity and health so you're always prepared for what's ahead.
Internally, there are few vans as high-spec as the new 2023 range from Lotus Caravans. With gourmet kitchens to rival a small apartment, complete with coordinated interlocking cabinetry and designer interior fit-outs, as well as premium appliances, Italian leather upholstery and high-end Fusion entertainment systems, you'll enjoy five-star luxury no matter where you're parked up.
For those travelling with a tribe, our new range makes for the best family caravan options available in 2023. Our Trooper, Off Grid and Freestyle caravans are completely customisable, offering 23 unique floorplan variations and multiple bunk bed configurations, with floorplans ranging from 17' to 24'8". Our ergonomic layouts are professionally designed to maximise functional usability, without compromising on style and comfort.
When it comes to the best off-road caravan range to come out of 2023, there is no beating the latest from Lotus Caravans. Discover our new vans by watching our short film below, or design your own van using our online Lotus Caravans builder here.
With the new 2023 range from Lotus Caravans, you're always prepared for the unexpected.
KITTING OUT YOUR CARAVAN: CARAVAN SETUP CHECKLIST
When you're buying a new caravan, the excitement of the upcoming adventures can be overwhelming. However, it's important to ensure that you have all the essentials and luxury items you need to make your trips comfortable and enjoyable.