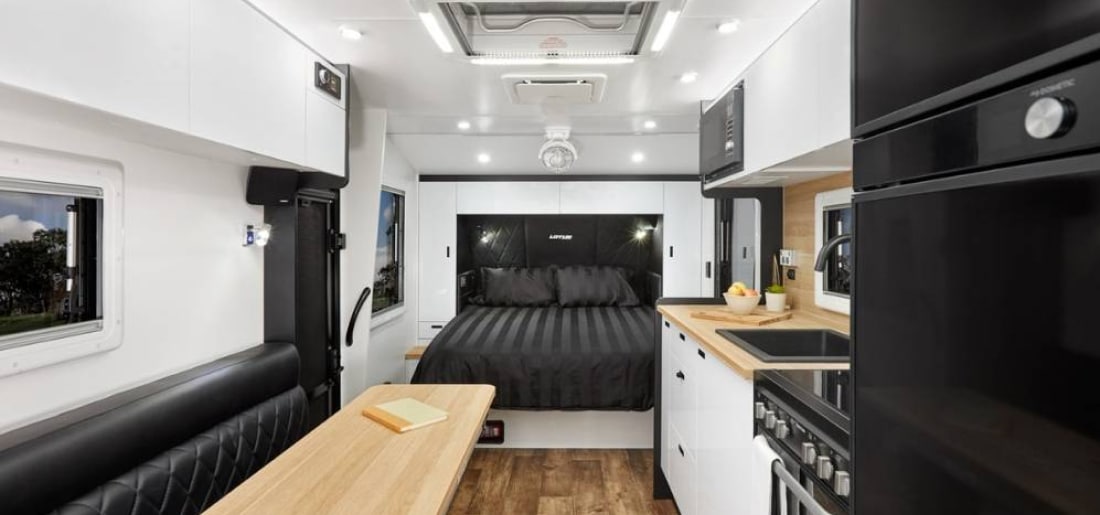 A GUIDE TO KEEPING YOUR CARAVAN COMFORTABLE
When it comes to embarking on an unforgettable road adventure, comfort is paramount. Your caravan serves as your cosy haven on wheels, offering respite after a day of exploration and discovery. At Lotus Caravans, we understand the significance of comfort during your travels, and in this comprehensive guide, we'll share valuable tips and insights to ensure your caravan becomes the epitome of relaxation and luxury.
Designing Your Caravan for Maximum Comfort
Choosing the Right Caravan Layout for Maximum Comfort
Before you hit the road, it's crucial to select the ideal caravan layout that aligns with your lifestyle and preferences. Consider your travel companions, preferred amenities, and desired living spaces. Lotus Caravans offers an array of layouts, across family layouts with two to four bunks, as well as caravans for single and couples across a range of sizes.
Maximising Caravan Storage Space for Convenience
A well-organised caravan adds to your overall comfort on the road. Utilise clever storage solutions, such as under-bed compartments, overhead cabinets, and collapsible furniture, to keep your belongings tidy and easily accessible. With efficient storage, you'll have more time to relax and enjoy your journey.
Incorporating Personal Touches: Caravan Wall Art
Make your caravan an extension of your personality by incorporating personal touches and artistic flair. Adorn your walls with captivating artwork, add cosy rugs, and choose curtains that complement your style. Creating a homely ambiance will make your caravan feel like a true home-away-from-home.
Ensuring Comfortable Living Spaces in Your Caravan
How To Make A Caravan Bed More Comfortable
A restful sleep is essential for a rejuvenating journey. Lotus Caravans offers high-quality mattresses designed specifically for caravans. You can upgrade your mattress to a Premium Ultimate Latex Mattress or add a Pillowtop Mattress Upgrade to make your bed as comfortable as possible.
Choosing The Right Caravan Lounge Seating For You
Your caravan's lounge area is where you'll unwind after a day of adventure. You can opt for seating options that suit your needs best, from a straight lounge, L-shape, club lounge or even some recliner chairs for the ultimate level of comfort. Enhance your comfort further with soft furnishings like cushions and throws, inviting you to relax and recharge.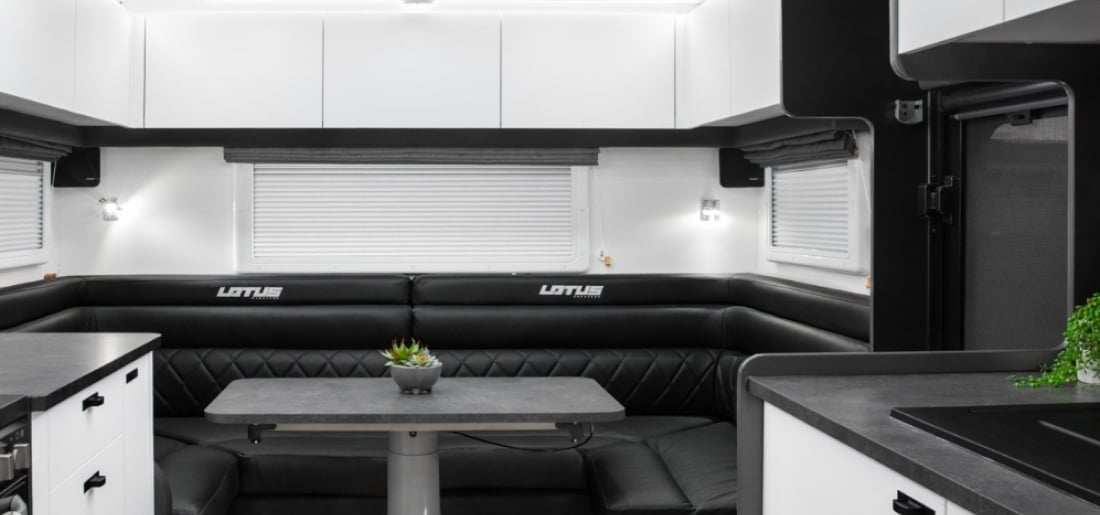 Maintaining Comfortable Conditions
Maintaining Optimal Temperature and Climate Control
Comfort is guaranteed with proper temperature and climate control. Insulation, ventilation, and heating/cooling systems play a crucial role in creating a pleasant interior environment, regardless of the outside weather and at Lotus Caravans, we've got you covered. We use the highest quality materials to ensure you are insulated from the elements and offer the highest quality caravan air conditioning units from Dometic. No matter the season, you'll feel comfortable and relaxed inside a Lotus Caravan.
Creating a Pleasant Ambiance
Crafting the perfect ambiance in your caravan sets the tone for a delightful journey. High quality sound systems from Fusion, as well as thoughtful lighting option are standard in our range, while you can elevate your experience even further with some calming scents. Embrace the tranquillity and comfort, making your caravan a sanctuary on wheels.
Stay Cosy with Diesel or Gas Heaters
No matter the weather outside, our diesel or gas heaters will keep your caravan comfortably warm, allowing you to enjoy your travels even during chilly nights. Available as an upgrade to nearly all floorplans, these heaters are amongst our most commonly selected extra inclusions.
Easy Hitching with BOS370 Blackops Jockey Wheel
Say goodbye to manual winding on the jockey wheel. The BOS 370 Blackops Jockey Wheel is an extra inclusion that allows you to hitch and unhitch in seconds using a drill, making your setup hassle-free.
Convenient BBQ Slide in the Toolbox
No lifting or carrying necessary. With our convenient BBQ slide in the toolbox, accessing your BBQ is a breeze, making outdoor cooking a delight.
Unleash the Power of Monster Upgrade
Experience off-grid living like never before with our Monster Power Upgrade, providing enough power to run all your appliances, air cons, TVs, electronic devices, and chargers, giving you the ultimate luxury experience even in remote locations. With 900Ah of Enerdrive lithium B-TEC battery power, 1000W of solar and a 2600W inverter just some of the inclusions, no other power system comes close to Monster Power.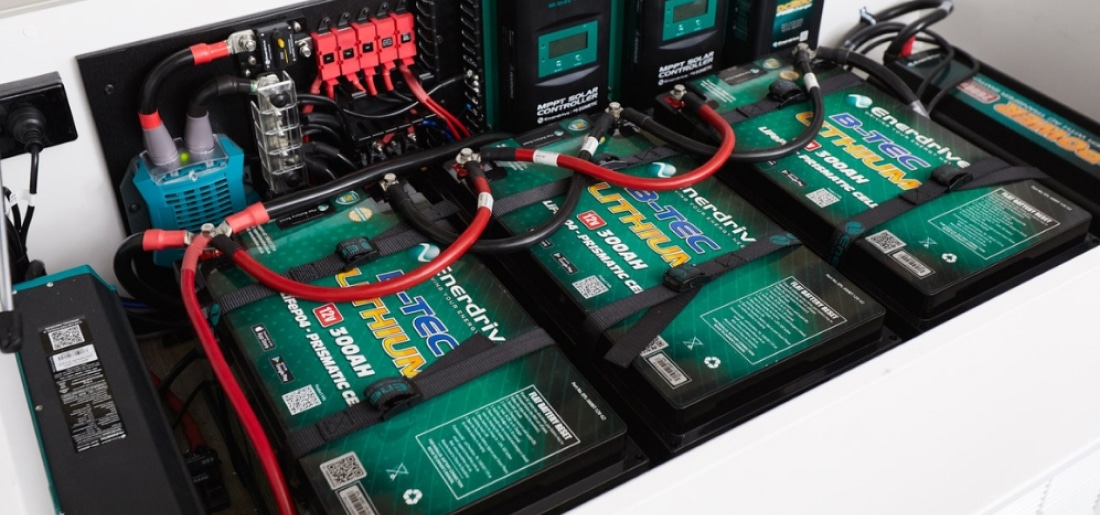 Effortless Leveling with Air Advantage Upgrade
Set up camp within seconds. One of the benefits of our Air Advantage upgrade is the ability  to automatically level your caravan, saving you valuable time and effort during setup.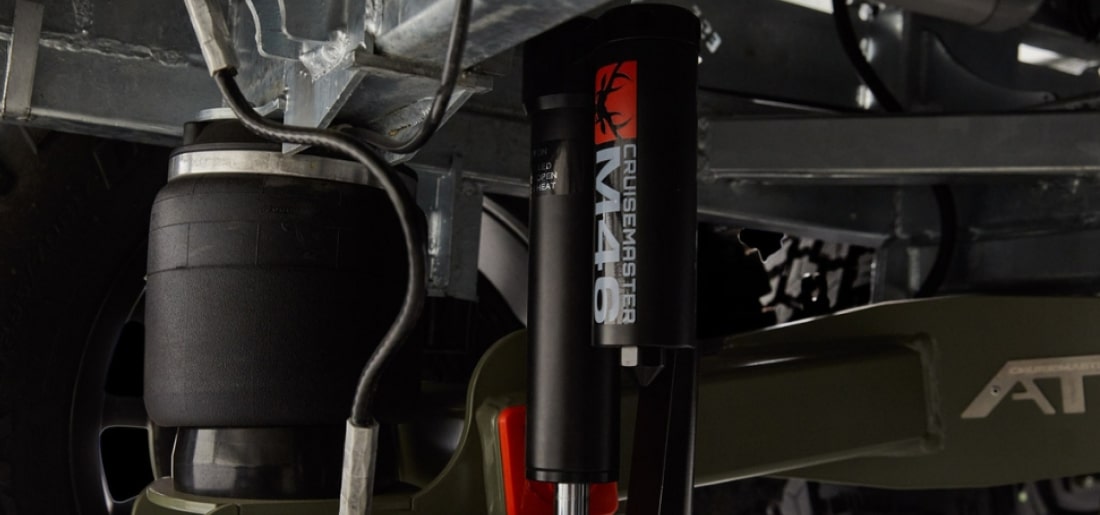 A comfortable caravan journey is well within reach with Lotus Caravans
By carefully designing your caravan layout, maximising storage space, and adding personalised touches, you can transform your mobile home into a cosy sanctuary. Make sure that your sleeping arrangements and lounge area are welcoming and luxurious, and don't forget to pamper yourself. By maintaining optimal temperature and ambiance, you'll create an environment that invites relaxation and rejuvenation throughout your travels. Embrace the luxury and comfort that comes with a Lotus Caravan, and make your road trips truly unforgettable.
Ready to embark on a journey of luxury and comfort? Enquire about your dream Lotus Caravan today.
SOME MIGHT CALL IT A PARTNERSHIP OF CHAMPIONS.
UFC Featherweight Champion. Pound-for-pound #1 fighter on the planet. Lotus Caravans Ambassador. For Volk, he's just living the dream. What better way to do that, than with the brand new 2023 Trooper from Lotus Caravans.