CHOOSING THE RIGHT CARAVAN BIKE RACK
Choosing The Right Caravan Bike Rack
No matter what your reason for venturing out in a caravan, there is a case to be made for taking your bike with you. Whether you plan to hit some of Australia's best BMX trails, road cycling routes, take the kids out or expand your mobility beyond camp, there are lots of reasons to take your bikes with you on the next road trip. In order to transport bikes on your caravan, you need a high-quality caravan bike rack that is suitable for your particular needs.
Bike racks for caravans come in a range of styles that bring their own benefits and challenges, so it's important that you choose the right set up for you.
Roof Mounted Racks
You can either fit roof mounted racks to the roof of your car or the roof of your caravan. Choosing to fit roof mounted bike racks on your tow vehicle will provide an extra level of versatility, as you can transport the bikes to places that the car can go but the caravan may not be able to access. There are some challenges with roof mounted racks that you need to be aware of. Firstly, adding considerable height to your car or caravan can severely reduce your access to particular locations. Another challenge is that many roof mounted bike racks require that the front wheel of the bikes is removed when the bike is mounted, which can add time and frustration to your trips, particularly for people who are not confident removing and replacing the front wheel. Another common issue is that if you mount your bikes on the roof of your caravan, you'll need to remove the bikes in order to properly set up camp and make the most of your caravan's features.
Drawbar Racks / A-Frame Racks
Caravan drawbar bike racks are an excellent option for mounting and transporting your bikes when you hit the road. Drawbar racks offer excellent access for lifting bikes on and off your caravan. Due to their position, they will raise a couple of their own challenges. Firstly, drawbar racks may impede access to the boot/rear door of your tow vehicle, meaning you'll need to take the bikes off in order to access your boot. Another consideration when using drawbar bike racks on your caravan is that the rack and bikes themselves will add considerable ball weight, as the racks sit close to the tow ball. Ensure that you distribute enough weight to the rear of your caravan to counterbalance for a safer tow.
At Lotus Caravans, we feel strongly that fitting bike racks to the A-Frame of our caravans is the best option for you. Using high quality bike racks from Thule, we mount the racks to the toolbox, which sits on the A-Frame. This offers great access and usability, excellent weight distribution and will not impede access to your vehicle, caravan or in to any particular areas, as there is no addition to height or width of your caravan.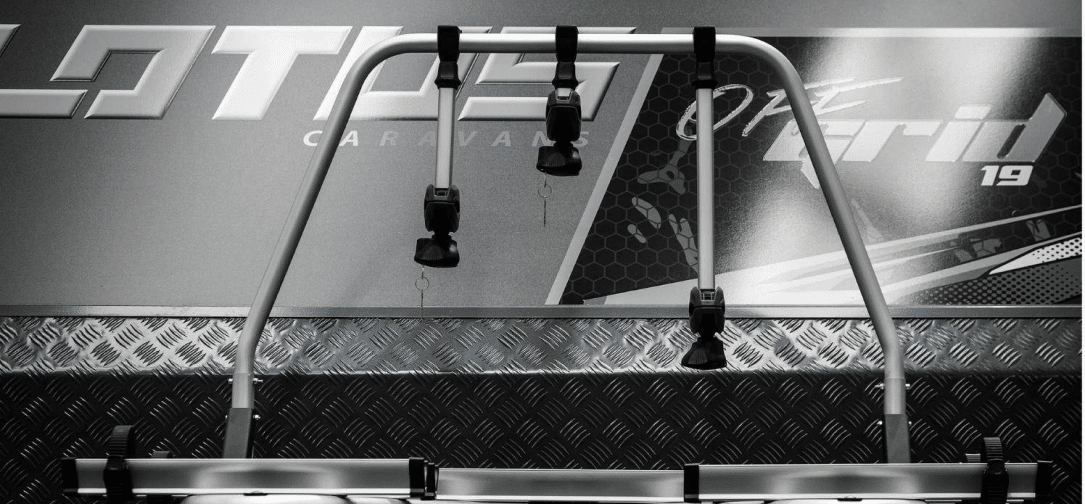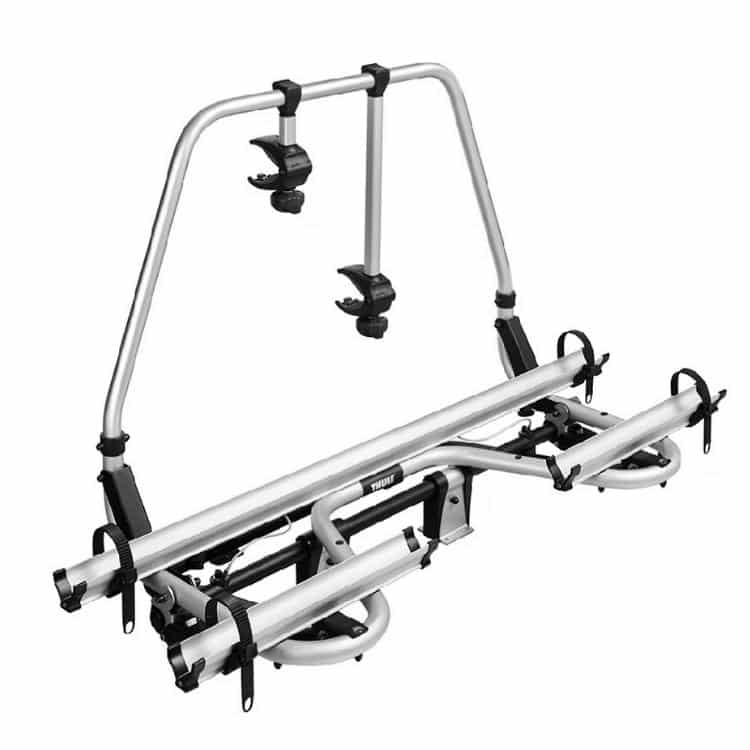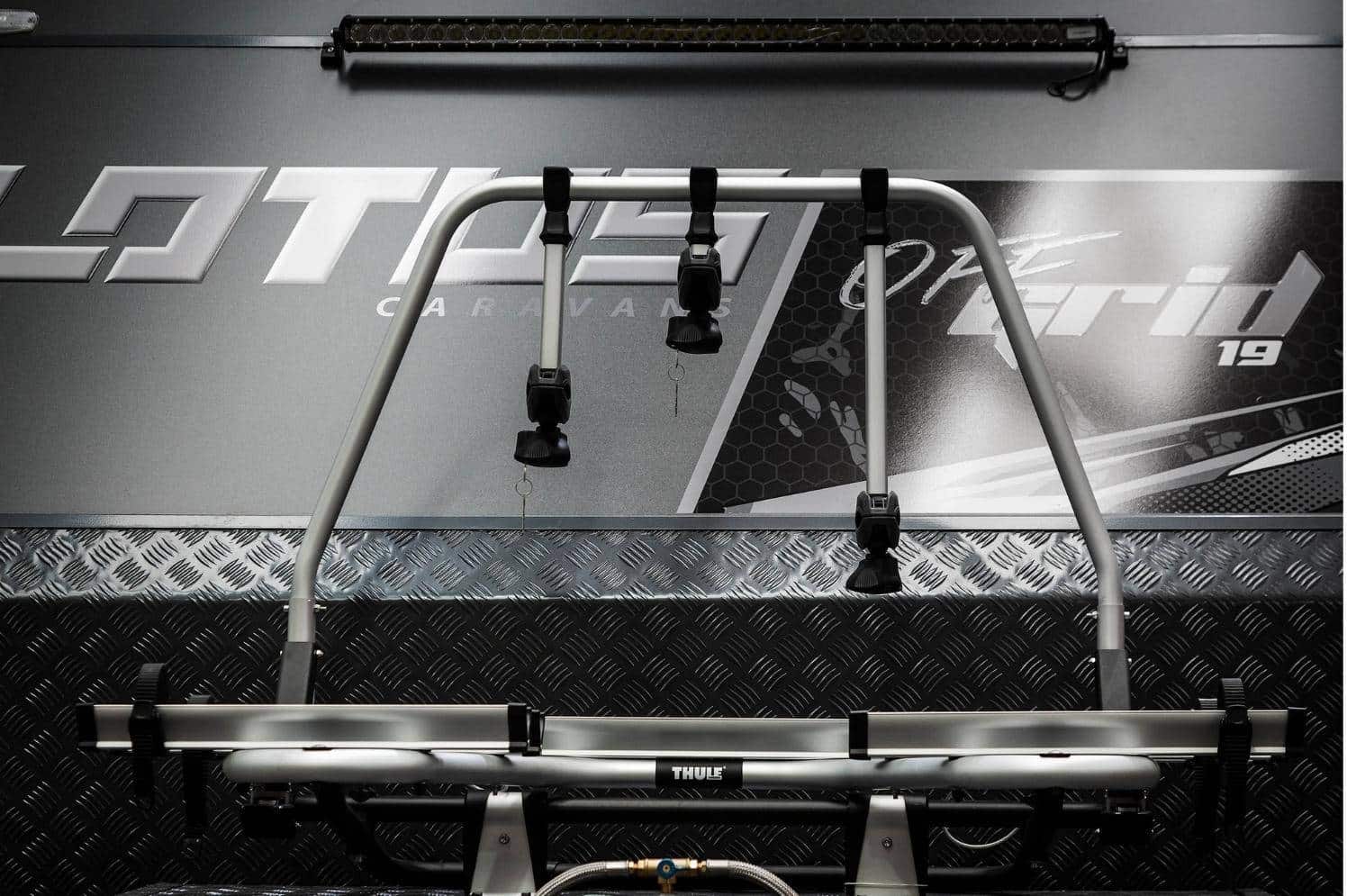 CHOOSING THE RIGHT CARAVAN BIKE RACK
Rear-Mounted Caravan Bikes Racks / Rear Wall Bike Racks
Rear mounted bike racks for caravans are installed on the rear wall of the caravan. The benefit provided by rear mounted bike racks is that there will be more space in places that a rack might normally be placed, like on the drawbar. These racks are often installed on the caravan spare wheel assembly or in to the rear wall of the caravan itself. Mounting in the rear wall can bring its own list of problems, notably that the chance of water ingress will be increased, as well as a structural risk if the caravan is not made to hold a rear mounted bike rack. Another issue commonly seen in the industry is that rear-mounted bike racks will suffer the most from vibrations. Corrugated road and off-road conditions increase the impact on the bike racks, which can lead to loosened fixtures and potentially loss or damage to your bikes and the rack itself.
Towbar Bike Racks / Hitch Bike Racks
Towbar bike racks or hitch bike racks are installed either to the towball itself or to a different part of the tow hitch. Bike racks that attach to the towball will prevent you from connecting your caravan, so are not suitable for this purpose. Bike racks that can attach to the hitch on a point other than the towball will allow you to connect your caravan to your tow vehicle so you can take the whole lot with you. One thing you'll need to me wary of is that some vehicles with a rear-mounted spare tyre may not have the space required to mount a hitch bike rack.
In Conclusion
Cycling and BMX are growing in popularity and make the perfect activity when you're on the road with your caravan. Despite the many ways in which you can fit a bike rack to your caravan, we firmly believe that installing a high-quality bike rack on the A-Frame of the caravan is the best option. You will not increase the height or width of your caravan, you'll be able to carry up to three bikes without significant discrepancies in weight distribution and you won't put any of your equipment at risk.
AMBASSADOR NEWS – AFL CHAMPION PATRICK DANGERFIELD JOINS LOTUS CARAVANS
Lotus Caravans is excited to announce that AFL Premiership player and Brownlow Medallist Patrick Dangerfield has joined our team as an official ambassador. Regarded as one of the greatest players of the modern era, Patrick (aka Paddy) has achieved almost everything there is to achieve in football.