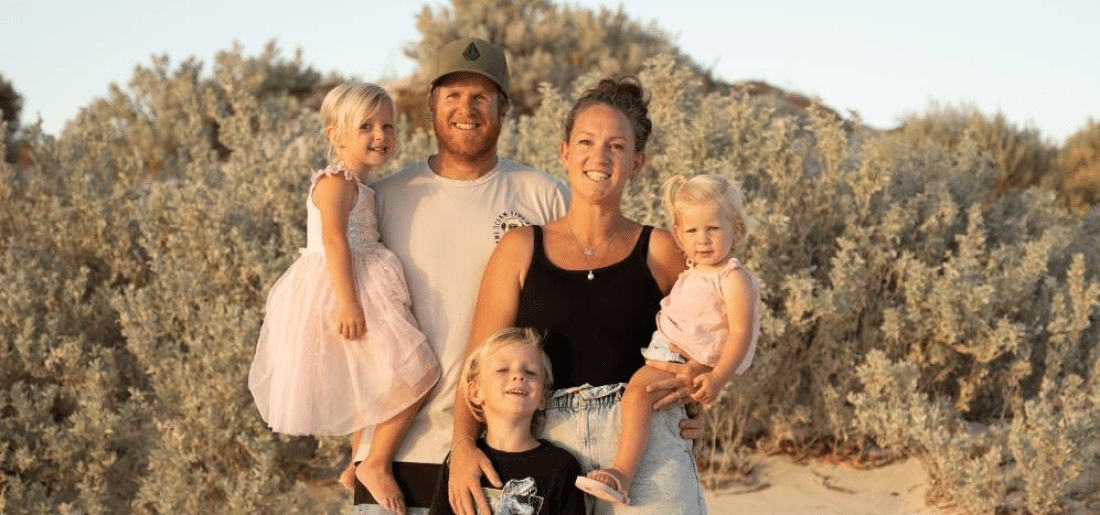 INTRODUCING OUR NEWEST AMBASSADORS – ALLOVERROAMERS
Who are the Alloverroamers?
Hey, we are Amy and Oliver, with our three kids Kohen, Tully, and Romily. We have been on the road full time since April 2021, Amy was born in Victoria, but grew up in WA, south of Perth. Olly is from NZ, and moved across to WA in his early 20s. We both love everything outdoors and travelling has always been a big part of our lives. We believe that time with our kids is precious and have made it a priority to spend as much time with them before they grow up and start living their own lives. We started documenting our travels on Instagram and we enjoy getting creative with photos and videos.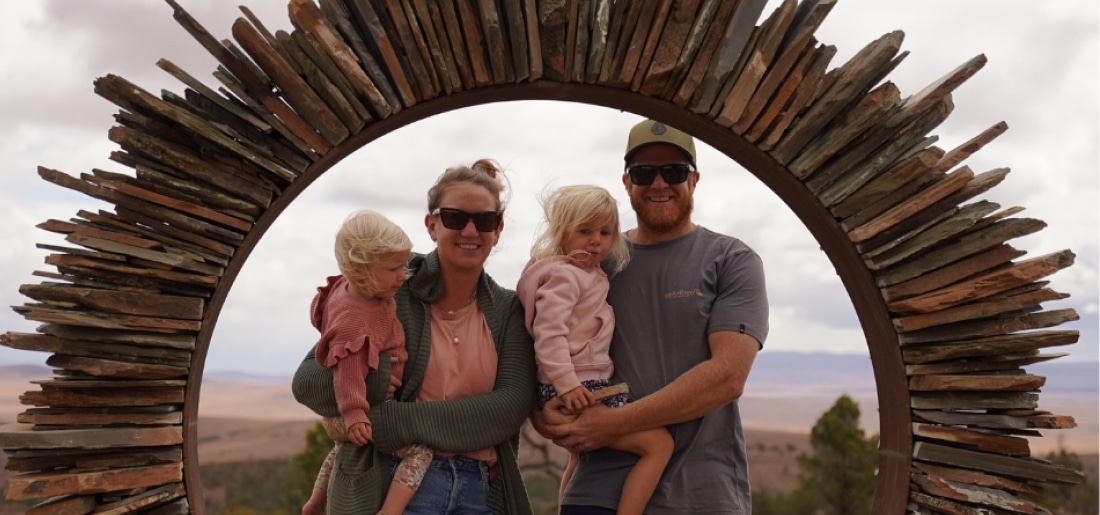 How did we take the leap to full time caravanning?
The urge to travel Australia has been there from the moment we went on our first camping trip together with our borrowed dome tent in the sand dunes on Boranup Beach, WA. We woke up covered in sand but it all became part of the adventure. We love the feeling you get when you have nowhere to be but you can go anywhere you want. We decided that morning that we would one day travel without the need to stop.
Fast forward a few years and a couple of kids later – we ordered our first caravan! We always said that we wouldn't be caravan people, because 'they hold you back from all the good spots, or 'that's not real camping'. This meant that the top of our list of must-haves for our caravan was that it wouldn't stop us from finding the good spots. Next was that it wouldn't fall to bits on the way there. So naturally, we chose a caravan that we had seen a number of in the Kimberley's in WA, on the notorious Gibb River Road. That van was a Lotus Off Grid 19' triple bunk.
The plan was set that after having our third child (lucky we bought a triple bunk), we would hit the road with no end date. We didn't do it the traditional way of saving up a year's worth of spending money and renting the house out. Instead, we decided that we would sell the house and continue to work, but still manage to get 8 months of the year off. This allowed us to leave sooner and means that we can sustain the travel life for as long as it works for us. The opportunity came up with Lotus Caravans to build our dream van, so that's exactly what we did! We believe our van gives us the best of both worlds – all the comfort and space, without losing any off-road ability.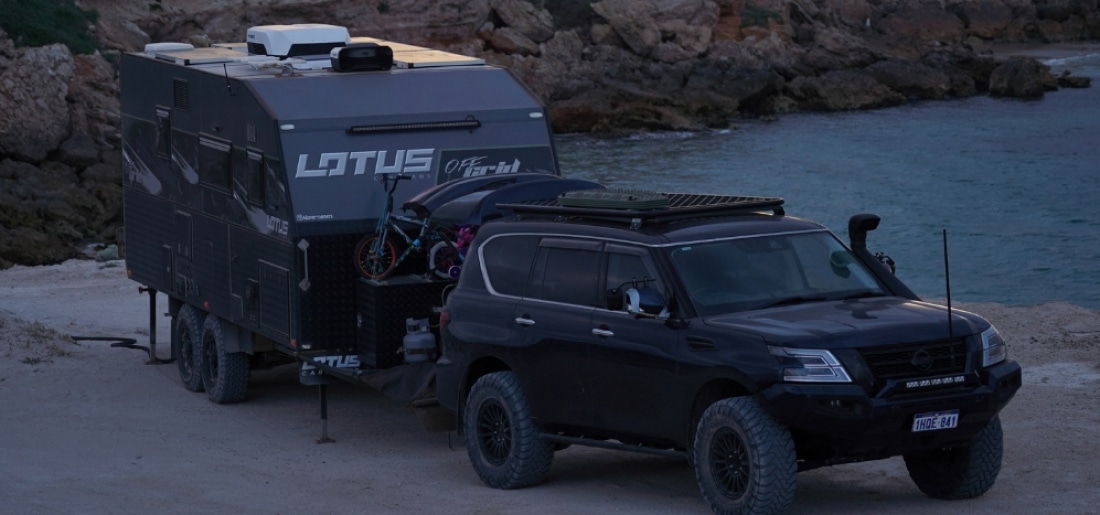 What we drive and what we tow?
We tow our new Lotus Trooper 20'9 triple bunk with a 2020 Nissan Patrol.
The caravan:
DO45 Hitch
Cooper Tires AT Tyres
600Ah Lithium with 1000W solar setup
2600W inverter
Twin induction cooktop
The Patrol:
GVM upgrade with poly air airbags
Bullbar and winch
Rock slider side steps
Underbody protection
Redarc Towpro Elite V3
Onboard ARB air compressor
DCS lithium start battery
1800W inverter
295/70/18 A/T tyres
How we plan our trips
We like to wing it, sort of. We talk to locals, info centres, other travellers and also do a lot of research online about areas we are going to go. Usually there is a list of 'places to see at XYZ', so that's normally a good place to start. Then we use Google Maps or Wikicamps to zoom right into areas and often we find waterfalls or walking trails, points of interest, etc. We literally have hundreds of spots marked on our map! So we aim for the flags. If we have a bunch of spots in an area, then we try to find a campsite nearby, so we can spend a few days ticking them off. Or, if there's one on its own on the way to where we are going, then we just stop in on a travel day. But sometimes we just get in the car and go for a look. Some of the spots we've loved the most, we have found by chance.
When looking for campsites, we like to zoom right in to see what the tracks in look like, if the campsites are covered by trees, next to water, etc. Our van is set up to live off grid for as long as we want, so finding a spot in the sun allows us to stay longer and make the most of it. We prefer campsites near fresh water, as it allows us to use less of our tank water and stay for as long as we can.
Favourite spots in Australia
So far, our favourite spots are:
The camping in these areas is cheap, if not free, they have some of the most stunning landscapes, and are an adventure to get to. This is the criteria that I will be judging all our camps from now on.
Favourite activities while camping
Our ideal campsite, would be next to the ocean, with some reef out the front so we can go snorkelling, fishing, look for rock pools, shell hunting, and if its windy enough, I (Olly) might go kiteboarding occasionally (to justify it taking up so much room in the caravan – queue Amy's eye roll). I have a growing passion for photography, and staying in some of the most beautiful parts of Australia means we get to capture some unique memories to keep forever. We also like to cook on the fire as much as we can. It's a fun way to get the kids involved and usually produces some tasty results.
Favourite features of our caravan
We love the layout of our new van. Having the couch on the door side makes it feel more spacious somehow and the space we created in the bathroom by putting a concertina instead of a solid wall means that the whole end of the van is open and uncluttered, even when there is lego all over the floor!
The air bag suspensions makes levelling the van extremely easy and dropping the air out means we can get the step nice and low to help the kids get in and out of the van safely.
We prefer to free camp, so having 1000W of solar to top up the 600Ah of lithium batteries is perfect for us. We cook on the induction, use the air fryer and microwave quite a lot and we have enough power for a few days of consecutive cloudy days, if needed.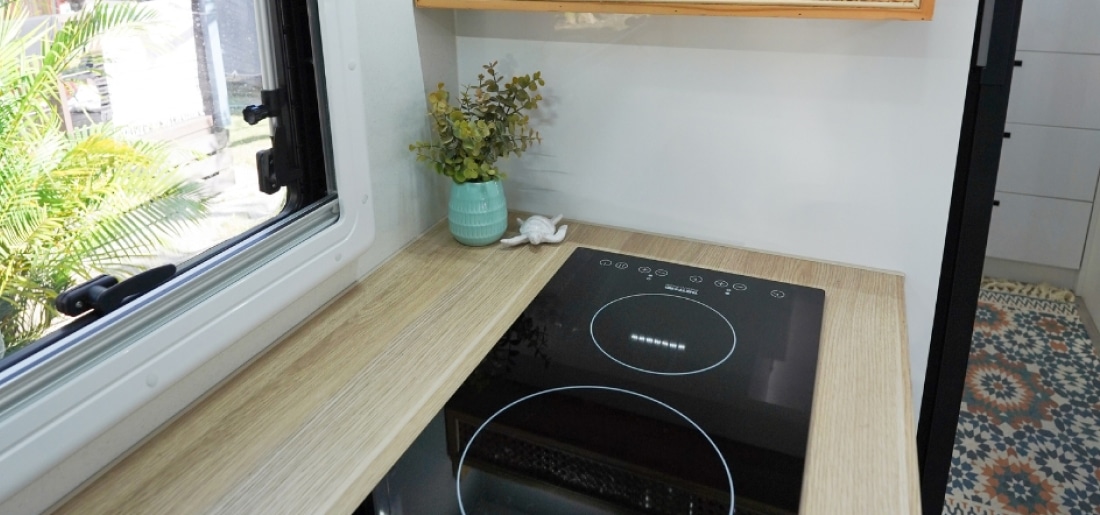 You can follow Alloverroamers journeys and discover their incredible caravanning content by following them:
A GUIDE TO KEEPING YOUR CARAVAN COMFORTABLE
When it comes to embarking on an unforgettable road adventure, comfort is paramount. Your caravan serves as your cosy haven on wheels, offering respite after a day of exploration and discovery.